Sainsbury's commercial director Mike Coupe is set to take over as chief executive from Justin King later this year. But a finding boss can be a difficult process which succession planning can help with.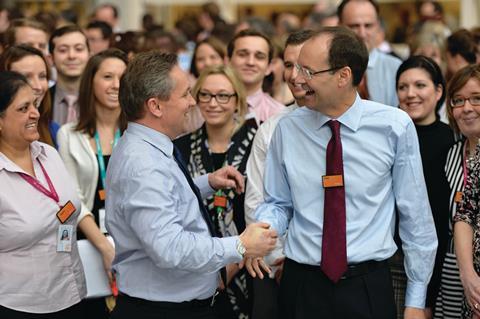 Mike Coupe has big Boots to fill when he takes the baton from Justin King this summer to lead Sainsbury's next leg. But Sainsbury's has already won one battle by seamlessly appointing a worthy successor while keeping the City generally happy.
Coupe already has almost 10 years at JS under his belt, having worked his way up to commercial director, and had a hand in many of the strategic initiatives undertaken by King. The Sainsbury's board hopes that experience will keep the retailer on an even keel.
Shore Capital analyst Clive Black says: "Mike has been part of the relative success over the past seven years. He represents continuity and it should keep investors comfortable."
This is just as well, because King has already prepared the City for lower than expected like-for-likes in the fourth quarter after he witnessed the toughest Christmas in 30 years. Coping with tough trading conditions will no doubt be one of the first tests of Coupe's ability.
But whatever the retail environment, the appointment of a chief executive is still one of the most difficult decisions a board faces as the chairman attempts to manoeuvre the egos, frustrations and ambitions of the senior team.
You know what a person's really like once you've worked with them

Simon Burke, Bathstore
"It can all end in tears," says Bathstore chairman and departing Hobbycraft chairman Simon Burke. "You've got to remember we could be talking about someone being a chief executive for the first time. It's the height of their ambition, it's their moment and it's in your hands and the stakes are really high."
It is the chairman who is ultimately left with the tough decision over who leads a business. "It can be a minefield," admits Burke.
The choice of successor, even a well-known internal candidate, will not always go down entirely smoothly.
One example would be Burberry, where the promotion of creative director Christopher Bailey to succeed the highly regarded Angela Ahrendts was met with questions in the City.
There was concern that Bailey's strengths were not necessarily those that would be expected of someone charged with running a company.
Internal or external?
Headhunting firm Clarity Search managing partner Fran Minogue says: "You have always got to ask, what does the business need?
"Is the business broken and, if so, it probably means you need new blood. When Justin went to Sainsbury's they needed fresh ideas and fresh thinking.
"Burberry has a winning formula and Christopher is central to that. So the retailer is right to give him an opportunity to prove he can be commercial as well as creative."
Minogue believes the first question an appointment brings is whether a business wants to promote from within or outside.
"If it's internal it's a known animal, there will be a natural culture fit and they know the strategy and understand the values," she says.
Minogue points out that many retailers will look inside and out the company as best practice, as was the case for newly promoted Home Retail boss John Walden, to satisfy the board that they have the best person for the job.
Ironically, while Walden was by the time of his promotion to chief executive regarded as the internal candidate, when originally appointed as managing director of Argos it was his outsider status - accompanied by freshness of thought - that won him the job.
Burke believes it's a case of 'better the devil you know' when it comes to hiring for a chief executive.
"If I have someone [from inside the business] that's 90% right for the chief executive job I would choose them over someone I felt 100% about but had only met a handful of times," he says. "I've had more success with people I have worked with and have known. You know what a person's really like once you've worked with them and you know how they will react to a certain situation."
Wiggle chairman and former Asda chief executive and chairman Andy Bond says the internal versus external hiring debate is dependent on where company growth needs to go next.
"In a large corporate like Asda, you always want to start with looking within the business and when I was leaving Andy [Clarke, now chief executive] was more than capable of doing the job," he says. "With Wiggle there are very senior people there but the people you need for a £100m business are very different from a person at a much bigger business, so it was inevitable that we needed someone different."
Wiggle appointed Stefan Barden as chief executive in September last year as Humphrey Cobbold stepped down after three years in the role. N Brown and Poundland chairman Andrew Higginson says appointing externally is a riskier approach but he felt he had found the right person in Angela Spindler when he hired her from The Original Factory Shop to succeed Alan White as boss of N Brown.
"She was the standout candidate," he says. "Alan had been there for 25 years, we were not looking for someone who was a contrast but we were not looking for someone who was the same as him either.
"We were looking at the strength of the individual and what they would bring to the party. We needed someone with a clear leadership and who would pick up the business quickly - someone who could motivate people and lead from the front.
"Alan did a great job and Angela will do a great job. So far so good. We're delighted."
How to plan for succession
Korn/Ferry head of retail Sally Elliott and head of leadership consulting Steve Newhall offer their advice to retailers preparing for a new chief executive.

What questions should a board ask itself?
What are the competencies required of the chief executive to lead the organisation short, mid and long-term?
What skills does the present senior leadership team have?
How far down the organisation does it understand the talent it has?
How can it develop its next boss and future generations of potential chief executives?
Does it understand how its talent compares with the external market?
As the business changes, will it still have the talent we need?
The principles that underpin best-practice succession planning
Ensure the board is aligned. For example, it must agree on the profile that a future chief executive will need.
Assess candidates rigorously. Internal candidates should be compared with best-in-class external candidates.
Plan ahead and invest in the future. Think two to three moves ahead, not just about potential replacements for the incumbent but training up generations of successors.
Give it time and attention. Chief executive succession should be regularly reviewed as an ongoing board agenda item.
Failed handovers
However extensive the interview and screening processes are, some appointments don't always work. The short tenure of John Browett as vice-president of retail at Apple is just one example, but the retail sector has other difficult successions.
For instance, Marks & Spencer chief executive Marc Bolland has not managed to replicate the £1bn profit achieved by his predecessor Sir Stuart Rose, leading some to wonder whether he is the right man for the job. But one of the biggest question marks has been over the leadership change at Tesco after chief executive Philip Clarke took over from Sir Terry Leahy in 2011.
In his 14 years at Tesco Leahy transformed the grocer into the third biggest retailer in the world. But since his departure Tesco's performance has declined and in 2012 the retailer's group profits fell for the first time in 20 years.
Many have criticised Leahy's long-term strategies that Clarke inherited.
Former Tesco boss Lord MacLaurin labelled Leahy's legacy "sad" last year in spite of the fact that Clarke worked alongside Leahy in building the strategy. Whether it is Leahy or Clarke's responsibility is still being debated.
Making a broad point, Minogue believes a failed succession is usually an indicator that the company did not follow the right hiring process.
Korn/Ferry head of retail Sally Elliott says the wrong people get appointed when qualified candidates are in short supply, the board hasn't agreed on strategic direction, or it is not clear what qualities the new chief executive needs and whether the candidate is ready.
"We are seeing a significant increase in the level of interest and amount of time that boards are investing in succession planning, particularly for the chief executive role," she says.
Family planning
Another side to the succession story is companies with family connections. In these cases business becomes a lot more personal and it may be that certain positions are reserved for family members.
However, it can be hard for an external candidate entering the family fold, as Darren Shapland is said to have found before he stepped down from the top job at Lord Harris' Carpetright in October after just 17 months.
So how can boards ensure a successful succession while managing the rest of the team's expectations?
Former Morrisons chief finance director Richard Pennycook was widely believed to be being lined up to head the grocer. The job eventually went to external candidate Dalton Philips in 2010.
But the board ensured Pennycook's ambitions were at least partially satisfied by giving him more responsibility, such as appointing him as chairman of the Kiddicare business.
Pennycook is now finance director at the Co-operative Group and chairman of online retailer The Hut.
Burke and Bond believe that honesty is the best policy so that people understand what path their career is on and they are not surprised by a hire.
Burke says: "You should be upfront about what you're doing so the candidate doesn't get frustrated.
"Sometimes you have someone who is very good internally but for the sake of best practice you look outside. But that can be very difficult because then the candidate feels insecure because they're not sure if you're doing it because they're not good enough or whether it is due diligence."
Bond says: "People should be on a personal development plan and if they are shocked by an appointment then that's poor management."
Chief in waiting
Chairmen have also to be sensitive to the growing impatience of the successor being groomed.
Burke says: "If you have got someone who is good then it can lead to impatience. They start to think 'isn't it time I have the big job?'"
When looking internally most boards will identify more than one candidate with potential for the top job to ensure the best person is chosen. Training would involve them working with an executive coach and encouraging them to take non-executive roles at other businesses so they widen their experience.
Coupe was appointed as a non-executive director to hospitality firm Greene King in 2011, for instance.
Burke says the chairman must commit time to the management teams: "You have to spend time with them and go out with them to stores. You subtly ask questions that have much wider implications and look at the wider picture."
"The most important thing is that you take your time," says Bond.
"Mike Coupe was an obvious and very good choice. No one can be fully prepared until they start the role and he will be filling some very big shoes."
With another five months until Coupe officially takes the helm at Sainsbury's, no doubt he'll be trying on King's crown for size.
Sainsbury's boss Justin King to step down and Mike Coupe to take over
1

2

Currently reading

Analysis: How succession planning can help you find the perfect retail chief executive

3

4

5

6

7

8

9

10

11