With retailers beginning to transact by opening stores within social media platforms such as Facebook, Joanna Perry takes a look at the payment issues that arise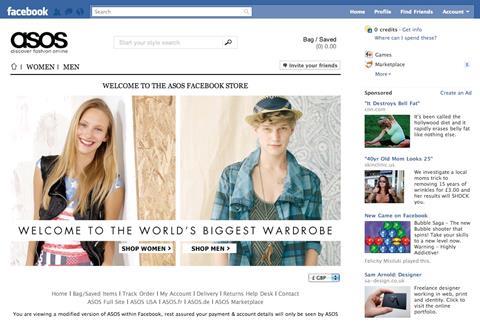 For anyone born before 1990, the idea of shopping on social networking sites, rather than just the retailer's main website, might seem an odd idea.
But retailers are beginning to build on the marketing presence they have developed, on Facebook in particular, by opening stores within the social network. Unlike retailers' previous forays into virtual stores – such as within the game Second Life – this time the purchases being made are very much for real.
And though the phenomenon of F-commerce, as it has been dubbed, is far from mature, there are enough retailers around the world developing stores on the Facebook platform for it to be a trend that's worth a second look.
But how do you handle payment if you create a Facebook store and will there be a push to encourage users to pay using the social network's own Facebook Credits currency?
In the UK, Asos has had a Facebook store since January 2011. It claims to have been the first to market within Europe with a fully-integrated store on the social network. Existing Asos customers are able to use their Asos log-in details to add products to their cart and checkout within the social network. Eight different payment methods are accepted, including all the major card schemes and PayPal, in the same way as for its main site.
Safety first
One of the notable points to make about Asos' Facebook store is that the checkout has lots of strong messaging on security. The etailer assures customers that their payment details will not be shared with the social network or publicly exposed on their profile, for instance, as a result of completing a transaction this way.
A message on the checkout page says: "You are viewing a modified version of Asos within Facebook, rest assured your payment & account details will only be seen by Asos." And the checkout button reiterates this, saying "Pay Securely Now".
PayPal director of platform and innovations John Lunn says it is not surprising that retailers are emphasising the safety of purchasing through their Facebook stores. "If you are doing a normal transaction on a retailer's ecommerce site then it is a one-to-one transaction. On Facebook, the concept is all about sharing, so
people want to know how much is being shared."
Lunn adds: "La Redoute in France is using Facebook, as is Asos, but generally it is not as mature as a route to market as it could be. There is a bit of resistance to over-commercialisation of social media."
The best way to pay
There are several ways that retailers can handle payment in a Facebook store. The first is to redirect users to another page outside Facebook where they can pay, or they can create a lightbox that hovers over the page in the Facebook store.
Lunn says La Redoute is using the lightbox option for PayPal payments within Facebook, but it is also possible to direct customers through to PayPal for the transaction before directing them back to the social media site. For larger payments, he prefers retailers to redirect to PayPal so the payments provider can carry out enhanced security checks.
There has been some debate about the likelihood of Facebook wanting to introduce its own currency for physical goods bought through the site. The social network allows users to purchase Facebook Credits using credit cards, PayPal or their mobile phone, and, at the moment, they can be used to pay for virtual goods; for instance, in game apps developed for the site.
Facebook UK strategic partner manager Gavin Sathianathan says the company has no plans to launch Facebook credits for physical products. Facebook takes a 30% cut for credits payments and retailers do not have adequate margins to support this.
Social networks are a very immature channel to market for retailers. But if the results stack up quickly for the early adopters then others will want to move quickly.
Making sure you can convince customers that their payments will be secure is an important first step.
The future is here
1

2

3

4

Currently reading

Payment options for retailers on Facebook

5

6

7

8