As Britain commemorates the 70th anniversary of the Blitz, unique colour footage has been discovered showing the aftermath of air-raids that set Oxford Street ablaze.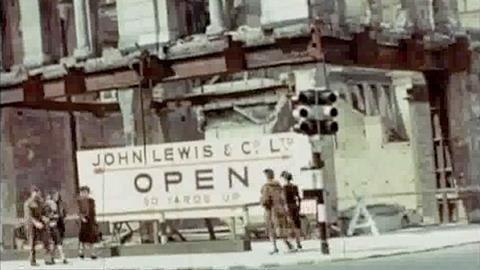 A week today John Lewis, along with department stores Selfridges, Bourne & Hollingsworth (now the Plaza Shopping Centre) and Peter Robinson (now Nike Town) were among the many premises bombed.
The images, released by Westminster Council, show how John Lewis began trading again amid the ruins of its store (pictured) in defiance of the attacks.
Oxford Street retailers played a prominent part in the war effort. A Selfridges basement was a coded communications centre and George Orwell made broadcasts from the basement of Peter Robinson.
After walking past the ruined John Lewis store, Orwell grimly noted how the piles of mannequins in the street reminded him of corpses.
Today Oxford Street remains the UK's most prestigious shopping street and last week it was voted the best in the world in a poll for Retail Week's sister magazine Drapers.