Customers are purchasing from retailers' websites via their mobile phones whether retailers encourage it or not. Joanna Perry looks at how to optimise the transaction process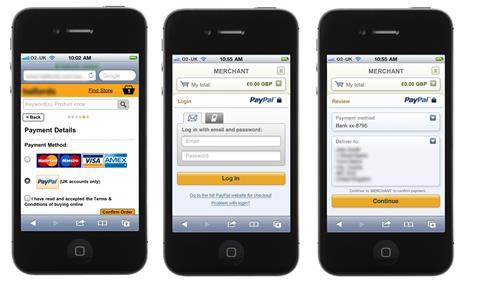 New figures are being released daily claiming to show how quickly mobile commerce is growing. Some can be taken with a pinch of salt, yet speak to retailers who are analysing what's happening on their own sites and they will tell you that mobile traffic is growing quickly.
This is the reason retailers from Marks & Spencer and Halfords to House of Fraser have all invested in mobile versions of their websites. And many others have introduced mobile apps, as sales of Apple iPhone, Android and other smartphones have rocketed. Others who have yet to develop a specific mobile channel are also finding that their customers are choosing to access their websites this way.
Whether or not you have made this jump, what can you do to make sure that the purchase experience is as smooth as possible for customers who want to shop on their phones?
Mobile gathers pace
M and M Direct IT director Graham Benson says: "The growth predictions regarding the m-commerce marketplace (in terms of technology adoption and transaction revenues) are being continually revised upwards, which means that the date by which retailers need to have deployed a transactional mobile-optimised site is getting
ever-closer. The actual time for each business will depend on your brand positioning, product set and customer demographics, but in my opinion it is a case of
when, not if."
Mobile accounted for 11% of all retail-related web searches in the first quarter of 2011, according to the BRC/Google Online Retail Monitor, which measures the growth of online retail searches. And these figures are supported by anecdotal evidence from many retailers. Superdry has seen visits and sales through
mobile phones soar in the past year, even though it has yet to launch a mobile-optimised site (see panel), and this experience is verified by other retailers.
Steve Borges, co-founder of digital agency Biglight, talked Retail Week through the latest mobile figures for a selection of his fashion and footwear retail customers. He explained that in the latest analysis his retail clients have seen a minimum of 6% of traffic to their websites from mobile devices, and a maximum of 10% – sales
lag behind this slightly at between 3% and 8%.
PayPal director of platform and innovations John Lunn explains that the company offers several payment technology options for retailers wanting to accept PayPal through their mobile channels.
The Mobile Payment Library can be used with a retailer's mobileapp, and Mobile Express Checkout is available for any retailer using PayPal's Express Checkout product on its site. Whether or not the retailer's site is mobile-optimised, Mobile Express Checkout detects customers who are visiting the site using Apple, Android or BlackBerry mobile devices and serves up a mobile-optimised version of PayPal's checkout.
Lunn explains: "It looks like a native checkout, but is pared down like it would be if it was within a mobile app."
Benson very much agrees that mobile-optimised solutions should have a familiar feel to them. He says: "Retailers need to heed the lessons from the failed WAP experiments the last time we tried m-commerce. We need to provide mobile solutions that are intuitive, simple and adhere to the standard web user journey as much as possible, as the mobile user is probably already comfortable with interacting with us on our standard website. Our user experience and look/feel also need to be as close as possible to our 'main' site, as otherwise there are potentially negative impacts on the brand."
Lost keys
Lunn says that tailoring the user experience of paying using a mobile device must take into account that most consumers won't have a proper keyboard. They will either be using a touchscreen device – such as an iPhone or HTC Android phone – or a device with a very small keyboard, such as a BlackBerry.
"When you are using a mobile device you want to type as little as possible, especially if you have to enter billing and shipping details as well. With PayPal the customer only has to enter a password or PIN, and for Mobile Payment Library they don't even need to log in," he says.
Lunn believes that one of the reasons Next has been so successful with its ecommerce/m-commerce business is that you must have an account to shop, and so such details are already saved.
There are security procedures in place to protect customers who want to have PayPal details saved on their mobile devices to facilitate easier purchasing. "The system determines whether a customer needs to log-in based on risk-based authentication. If a customer is going to purchase a £2,000 TV, we will in all likelihood make them authenticate their identity. And PayPal account holders can also block particular devices through our website, for instance, if they lose a mobile phone."
Future considerations
Apple, Android and BlackBerry are the three most important device types at the moment, but Lunn says retailers should keep an eye on the new Windows phones being launched, and tablet devices – such as iPads and Samsung's Galaxy – are a consideration too. Some retailers are beginning to think about sites and apps specifically for tablet devices and must consider the payment experience for them too.
Borges says that for his clients mobile traffic comes from smartphones – and particularly iPhones dominate – but 60% to 70% of sales come from iPads. He adds that average page views and time spent on sites for users of tablet devices such as iPads is almost identical to those using computers, while for smartphone users these figures are almost halved.
It is clear that retailers need to consider how quickly consumers are changing their habits, and even if they are not ready to launch full-scale mobile channels, making it as easy as possible to pay on a mobile device must be near the top of the mobile to-do list.
Superdry: Customers on the move
Superdry online marketing manager Cass Heaphy says the fashion retailer is seeing progressive growth in its mobile traffic. It has already launched an iPhone app, and a mobile-optimised version of its website is also in development.
He says: "What's clear is that for younger consumers mobile is almost the weapon of choice."
Getting the checkout and payment processes right for customers transacting via their mobile phones is crucial for the retailer with the channel growing in popularity so quickly. Heaphy explains: "Last year, 4% of our online traffic was mobile, and less than 1% of our UK online revenue was from mobile. In April this year, about 8.6% of our traffic and 4.52% of our UK online revenue
is from mobile."
Heaphy predicts that half of Superdry's online traffic could be coming from mobile within the next three years. However, while the conversion rate for mobile is very high at the moment, as mobile traffic is being driven by the iPhone app, he expects this to drop off slightly when the mobile site is launched.
Customers making purchases via the iPhone app can use PayPal or use credit and debit cards, and Heaphy says that for customers with touchscreen smartphones, the simplicity of the PayPal payment process makes for an easier user experience. He adds that any payment process where details are cached on the mobile device for future use is likely to be attractive to consumers wanting to buy products using their phone.
PayPal's Mobile Express Checkout automatically diverts users to a mobile-optimised version of its payment platform when it detects they are using a mobile device. This already happens on the main version of Superdry's website, and will also be used on the mobile-optimised version when it is launched. Already around 5% of the transactions completed using PayPal on Superdry's main site are done using a mobile phone, and Heaphy says the figure for those using the iPhone app are even higher. Heaphy does not think that consumers have specific security concerns about completing payment using their mobile phone as the security issues are broadly the same whatever type of device you use to access the internet.
However, when the mobile-optimised version of the Superdry site launches, the company will be keen to promote the ease of use of checking out and paying on a mobile device in its marketing and PR messages.
The future is here
1

2

3

Currently reading

Optimising the mobile transaction process

4

5

6

7

8