'Extreme' dot-to-dot puzzles and adult colouring books helped stationery retailer WHSmith post a 10% interim profits rise.
But while WHSmith is a beneficiary of the trend towards kidult activities among stressed out grown-ups, it continues to make its own luck.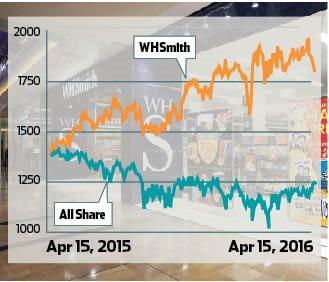 The retailer remains the target of barbed humour on Twitter's satirical @WHS_Carpet account for its sometimes poor in-store standards, but has brought relentless focus to sweating its assets.
Sharp space management in stores, new formats such as hospital shops and franchised Local branches, and development of key categories such as stationery are all contributing to the retailer's success.
Despite last week's results, which also showed the "best performance in many years" at WHSmith's high street division – although that equated to flat like-for-likes – many analysts rate the retailer as a hold rather than a buy.
Partly that is a result of its success. Its share price rose about 80% in the 18 months running up to last week's results noted broker Canaccord Genuity, which has increased its target price to 1695p but retained its hold advice.
Partly it is because the interims were in line with expectations and there was no change to forecasts. Investec, with a price target of 1820p, switched its recommendation from buy to hold.
However, WHSmith has growth levers to pull. International expansion of the travel business looks especially interesting. It is still small but profitability and sales are growing. In the first-half profits rose 50% to £3m and sales rose 40% to £35m.
If WHSmith continues to join the business dots growth may not be 'extreme' but it should keep the colour in investors' cheeks.
Pressure's on Poundland to deliver on 99p deal
Plenty of money is riding on Poundland following a like-for-like sales fall last year.
The retailer described last year as "transformative" following the purchase of 99p Stores, but tough trading conditions and focus on converting the acquired stores hit performance.
That is evident in a share price that traded as high as 363.3p last August but is now at about 139p.
Poundland is now concentrating on "extracting value from a significantly enlarged store portfolio" and investors will hope that will bear fruit.
Some brokers – Haitong is one – fear Poundland faces structural challenges, such as increased price competition on branded goods from the grocers including a stronger Tesco.
In contrast to that bearish view, broker Peel Hunt takes a bullish stance. It is excited by the new multi-price pilot format, Poundland & More, which it views as "a major step forward".
Poundland is confident of meeting full-year profit expectations, but the pressure is on to ensure the 99p deal really is transformative and that investors are quids in.