It's all change at BHS as the high street icon finds new life as an online retailer. How can its new owners ensure etail success?
The department store retailer that fell into administration in April has relaunched as an online shop today, focusing its offering on previous bestsellers across its lighting and homeware ranges.
Led by managing director David Anderson, the new site will predominantly target female, time-poor, 35+ shoppers and will be less promotionally driven than in previous times.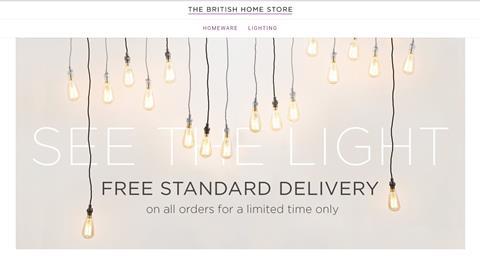 Despite its overwhelmingly negative PR recently, Anderson believes its loyal 1.2 million customer base and iconic British heritage will ensure the success of the move.
And he might be right, with ecommerce being the fastest growing retail market in Europe and online sales accounting for £52.25bn in the UK last year – a growth of 16.2% year on year.
Bringing BHS back
But it's a crowded market, and with the likes of Boohoo, Shop Direct and M&S all making huge strides in this area, it's a really competitive one.
So there are a few things they need to harness if they are to survive the transition and become a successful online retailer.
The first of these is demonstrating a ruthless focus on data. The beauty of ecommerce is that you virtually know everyone who comes in to your store and can track their behaviour as they browse and buy.
The critical element is how you harness this data to personalise the experience and retarget your shoppers to drive marketing efficiency.
Secondly, they need to modernise the brand. The collapse of BHS partly stemmed from a failure to update stores and adapt to changing customer demands in the face of competition.
Although BHS has huge top-of-mind awareness, it is now associated with an ageing population and a model that was synonymous with our grandparents.
Anderson has said this week: "the beauty of starting online is we can be agile and make sure we get it right. We will be analysing what is selling well from day one and making continuous adjustments."
If Anderson believes BHS's revival will rely on its loyal customer base, he needs to make sure they listen carefully to what those shoppers want, and refocus the brand promise to meet their needs on a daily basis.
Making moves
And finally, BHS needs a new mantra – learn fast, fail fast.
Being agile isn't about getting it right the first time. Another advantage of the digital space is the ability to test and learn very quickly.
BHS must trial new initiatives, marketing approaches or product ranges, get them live within a matter of weeks, understand whether or not it's performing, and then adjust accordingly faster than ever before.
It should look to other retailers who have survived a similar transition and learn from their approach in this area.
Shop Direct is a good example of putting experimentation at the heart of what it does and this has been core to the success of its transition from catalogue business to the UK's leading digital department store. As noted by its ecommerce director Jonathan Wall in a recent interview: "with a website, a mistake only lasts a day."
So what does the future hold? Only time will tell. If BHS can get this right, it will offer new hope to other fallen high-street retailers that there is in fact a life beyond bricks-and-mortar.
Matt Lee is co-founder and director of shopper media agency Capture