As shopping centres' footfall edges down, can they increase their appeal to shoppers by adding a mix of leisure to their retail offer?
There is an inevitable rise of leisure offers within retail developments as shopper centre operators look to improve customer engagement.
In 2018, a Nickelodeon-themed indoor family entertainment centre will open at Intu's Lakeside centre.
For those of us who have trudged around a shopping centre with a flock of children, all jostling into different branded stores, it will be a welcome relief.
Leisure space is now accounting for almost a fifth of units in the UK's top 30 shopping centres
To date, shopping centres have provided us with an easy-to-navigate array of stores, each renting their specific space. But retail survival is no longer about the most prominent, or largest space, it is about creating theatre and engaging experiences for visitors, increasing both shopper dwell time and footfall.
It has recently been reported that new retail space from shopping centre openings and refurbishments will reach a four-year high in 2017, with more than 2.7m sq ft of additional floor space under construction.
And it is not solely retail alone that has driven this increase in shopping centre developments. Leisure space is now accounting for almost a fifth of units in the UK's top 30 shopping centres with developers dedicating more space to leisure than ever before in a bid to drive footfall.
The new Nickelodeon amusement at Lakeside will feature adventure zones, themed-rooms for parties and beloved characters including SpongeBob SquarePants, and a dedicated food and beverage area.
Food for thought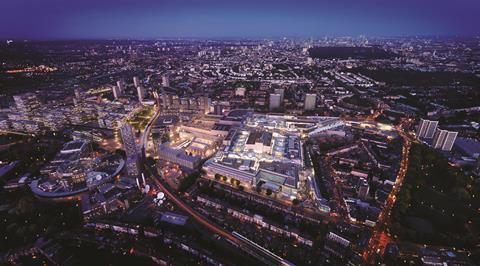 Dining is an integral part of the leisure and retail partnership. Westfield London recently revealed that over the course of a year it found that 58% of its two million visitors dined out during their trip. More than a third of shoppers preferred eating out over shopping, with 36% spending their money solely in restaurants and eateries while at Westfield.
However, it is not enough for shopping malls to provide a range of food, shopping and leisure options for the entire family.
The focus must be on creating a genuinely joined-up experience, so that there is a completely seamless transition between the digital and physical channels – from pre-ordering food at a restaurant to the option of a cashless retail experience, reserving items via mobile app for collection.
Retailers and shopping centres can look to Orlando-based resorts for inspiration on this frictionless journey. At SeaWorld Orlando, for example, an app allows guests to buy menu items from on-site restaurants in advance so they do not have to queue or wait for their food. A significant advantage for parents accompanied by impatient children.
Shopping centres must innovate quickly to provide a more engaging customer experience.
They need to work in collaboration with their occupants to create an easy and trouble-free customer journey.
By using technology, inspired by theme parks and resorts, the marriage of retail and leisure will drive customer engagement, loyalty and sales, benefiting landlords, occupants and shoppers.
Mel Taylor is chief executive of Omnico Group