The etailer has launched full grocery deliveries in the centre and east of the capital as the embattled supermarkets eye the new contender
So after several false starts, Amazon pantry and various other rumours. Amazon Fresh finally launched in 69 London postcodes yesterday to much excitement and the usual doom mongering for the likes of Tesco, Waitrose and Sainsbury's.
Not Morrisons though, their products are part of the Amazon launch and that is a smart move by the chain. Given they're not remotely exposed in the capital – supplying Amazon is a good way to get scale without investing in stores or infrastructure.
It also raises the profile of Morrisons, battered in the south post the Safeway acquisition and considered as nothing more than northern pie peddlers. Customers buying their products via Amazon could have a halo effect on the brand and increase traffic to the few stores Morrisons have in the London area.
The reality is that it will take time for Amazon to get to scale and for customers to switch to shopping with them
However, for Tesco, Sainsbury's and Waitrose, they're exposed inside in the M25 and they'll view the Amazon move with some concern. There has been a reaction already, with Sainsbury's seemingly offering trials of a quicker delivery service and Tesco rumoured to be looking at a similar operation to be serviced from a larger store in the capital.
Building to scale
The reality is that it will take time for Amazon to get to scale and for customers to switch to shopping with them, even though they're already online and it's just a matter of a different website to visit.
Then there are shopping lists to build, uncertainty over pricing or product quality, etc. Customers who shop online are habitual, demanding and generally tend to stick with the grocer who doesn't let them down.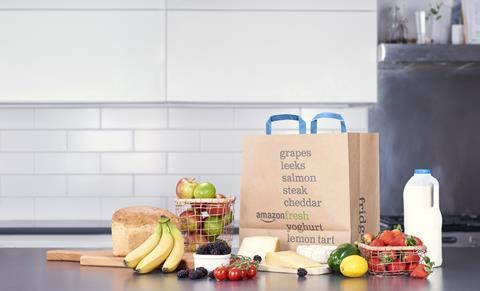 Whether vouchers will be used to entice customers is a consideration in the early days, although Amazon Prime customers are already halfway there. Futher incentives are to be expected and Amazon will be sharp on the logistics and operation given their experience in the US market.
At first glance online the range looks well developed; there are good prices and a number of locally sourced products, which is a really smart move. Lots of choice and the usual freshness guarantees.
Convenience for time-poor shoppers
It will be convenient and very easy to use, that's Amazon all over and with a time-poor customer base in London and the surrounding areas, that's a must. They provide ample competition for the other retailers, it's not that much of a leap of faith to order food through Amazon. When you think about it, virtually everyone started off buying their online books and DVD's from there – now they provide so much more for customers and this is what will worry Tesco and Sainsbury's particularly.
There's always a gap in the market for competition, and Amazon will provide this, refining their model and almost certianly rolling into further cities. The competition will keep a keen eye on them and adjust accordingly, but they always have their physical stores.
That's the one thing that Ocado do not have and, surely, they have the most to lose?