Eighteen months on from the merger, it's ironic that it is the 'old Carphone' that seems to be driving the Dixons Carphone business.
One of the fears about the merger of Dixons and Carphone Warehouse in 2014 was over the possibility that Carphone seemed so keen because it was nervous about its future in a world of network disintermediation.
But any thoughts that the mobile phone networks wouldn't need Carphone Warehouse any more have been scotched by an extended period of buoyant trading.
It would be have been interesting if management had given the split of the decent 5% UK like-for-like sales growth at Christmas between 'old Carphone' and 'old Dixons', but it sounds like it was heavily weighted to Carphone again.
Hoovering up market share
In this business you make your own luck and it was perhaps lucky that Carphone's biggest specialist competitor Phones 4U went bust in the autumn of 2014, meaning Carphone could hoover up much of its market share.
Yet Carphone's impressive market share growth has continued beyond the anniversary of the demise of Phones 4U. A year ago Carphone had 21.8% of the post-pay mobile phone market in the key fourth quarter, according to the trade data revealed today (up from 15.8% for the same period in 2013). However, in the fourth quarter 2015 market share reached the heady heights of 25.8%, implying strong double-digit sales growth at Christmas.
Carphone has helped market share on its way with some sharp price promotions, so the gross margin has come under some modest pressure. It has also helped itself by the successful roll-out of many 'shop-in-shops' to Currys PC World stores, thereby providing even more customers with good impartial advice about the increasingly complex world of mobile phone handsets and network tariffs.
Rolling out three-in-one format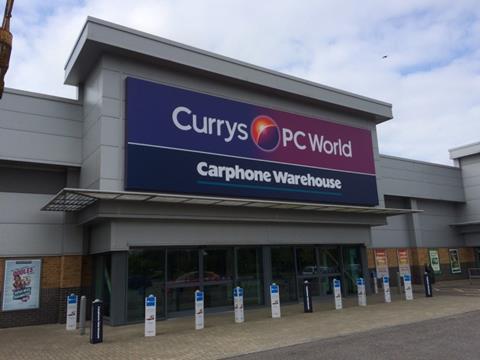 As an aside, management are so convinced of the power of the so-called three-in-one stores (Currys, PC World and Carphone Warehouse) that by the end of the next financial year all UK and Ireland Dixons stores (bar airport shops) will be in this format. The total number of stores will be 338, down from 429, although there will still be over 750 separate Carphone Warehouse stores.
Incidentally, although Currys Digital will soon disappear as a high street brand, there will still be 20 to 30 Currys/PC World/Carphone Warehouse stores in major shopping centres, such as Westfields.
'Old Carphone' is also behind another piece of major news today – the announcement that the 15-store Sprint trial in the US has been highly successful and Carphone Warehouse (aka its CWS Division) has now initiated the full joint venture with Sprint to manage a targeted 500 stores.
"Sprint is the dolphin we've now chosen to ride and we want it to go fast"

Seb James, Dixons Carphone chief executive
Once upon a time Carphone helped Best Buy get into the mobile phone business in the US, but as chief executive Seb James said today: "Sprint is the dolphin we've now chosen to ride and we want it to go fast."
Of course, James also famously compared the new Black Friday and Christmas trading peaks to the humps of a bactrian camel, so it will be interesting to see what new animal metaphors he comes up with in the future.
Perhaps if the English lion does well in the European Football Championships this summer he will sell enough shiny new TV's to reduce the group's dependence on the continued success of Carphone Warehouse.
Nick Bubb has been a leading retailing analyst for more than 30 years. He is a well-known commentator on UK retailing and is a founder member of the influential KPMG/Ipsos Retail Think-Tank