Retail is on the very edge of a revolution. Technology is driving change never before seen.
The scale is enormous and the consequences far reaching.
Retailers are no longer solely in the business of retail, they must rapidly evolve and reinvent themselves to think like technology start-ups.
Why? To find the answer, I travelled to New York to attend the National Retail Federation's annual retail conference, otherwise known as Retail's Big Show.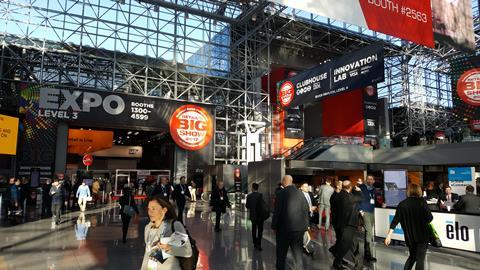 From the very beginning one thing was clear. Retail and technology are now intrinsically interwoven. The huge expectations and demands placed on retailers by tech-savvy consumers are driving unprecedented shifts.
So what was creating a buzz in NYC? Here are some of the key themes:
Robotics
We've seen robotics in retail for a little while now – primarily in the supply chain – but, like other new technologies, it is rapidly becoming mainstream.
In the Innovation Lab, Automated Packaging Systems was showing an automated piece-packing robot. Also in evidence, Microsoft-supported Shelfie is a retail shelf analytics platform that uses a robot to undertake stock checks in stores.
While at present only in beta, Shelfie is being tried out by Co-op Food to help count stock and manage inventory.
Cognitive computing
A star of the show was IBM's Watson – its cognitive computing initiative. It attracted a great deal of interest – but exactly what is cognitive computing?
In simple terms, it means that the machine is able to not only interact with and understand natural language (such as human speech) but while doing so is constantly learning, to all intents and purposes, just like a human.
This allows data analytics on an unprecedented level and scale and, most importantly, means that context is recognised. This has huge implications for retailers seeking to deliver great personalisation and customer experience.
Augmented and virtual reality
More familiar perhaps and yet still residing a little on the periphery, for me at least, augmented and virtual reality were both much in evidence at NRF.
Indeed, there was a 'virtual reality pavilion' where one could see and try out the technology.
While it was all fairly impressive, one wonders if the putting on of a headset will ultimately discourage people? Facial recognition and smart mirrors may see deeper penetration.
In-store technology
It is clear that stores and shopping malls are going to experience the biggest shift in the next five years as they become digitally enabled experiential destinations.
There were plenty of vendors at NRF keen to show their take on the store of the future. Diebold-Nixdorf, for instance, showed its 'extreme self-checkout' system.
Conversational commerce
Maybe not a term any of us were familiar with at the start of 2016, it featured in many sessions and keynotes throughout the course of the conference.
Many of us will be familiar with Alexa and Siri. I particularly liked the conversational chatbot from Mode.ai, which allows customers to find visually similar items and get styling suggestions and then, through virtual reality, see the garment on them.
It is perhaps this last which is the most relevant, the concept of the marriage of different technologies to create a seamless and inspiring experience.
This is the sweet spot and this is where retail will ultimately succeed.