Amazon's third annual Prime Day took place earlier this week to much fanfare, but did it deliver the sales spike the etailer hoped for?
Despite a slow start to Wednesday in the early hours of the morning, Amazon recorded more transactions per hour between 5am and 9pm than it did during the previous two Prime Days.
Amazon's trade on the day peaked at 538,650 transactions in the hour between 8pm and 9pm, although it maintained a strong flow of sales between traditional working hours.
According to data from PCA Predict, transactions then slowed below Prime Day 2016 levels between 9pm and midnight, registering just 128,460 sales between 11pm and midnight.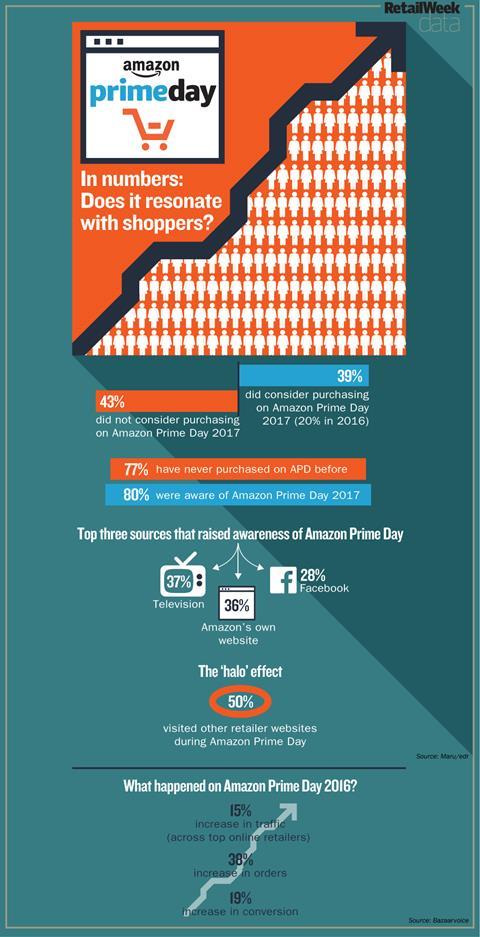 Despite that success, separate data from Maru/edr revealed that almost half of all consumers did not even consider making a purchase on Amazon Prime Day.
According to the firm's statistics, 43% of shoppers didn't entertain the idea while 39% of people did consider making a Prime Day purchase – up from 20% last year.
But the proportion of customers who shunned Prime Day reveals the size of the opportunity for Amazon to make the sales bonanza even more lucrative in future years.
Encouragingly for Amazon, 80% of shoppers were aware of Prime Day 2017, with 37% saying they were informed about the event by TV advertising.
A similar proportion – 36% – said they heard about it via the Amazon website itself, while 28% found out about it via Facebook.
PCA Predict's survey also revealed that Amazon Prime Day is rapidly engaging mobile shoppers.
The firm's research suggested that 39% of all transactions recorded on the day were made via mobile, up from 33% last year and 29% in 2015.
Mobile purchases have eaten into desktop sales, although the proportion of sales made via tablet has remained broadly flat over the past three Amazon Prime Days.
Methodology
The Maru/edr survey (used in the infographic above) was conducted on July 10/11 2017, surveying 200 respondents. Data in key demographics are sampled to meet quotas representative of 2011 UK Census data.
Bazaarvoice (used in the infographic above) surveyed 412 Amazon Prime members about their Prime Day shopping and browsing habits in the week prior to Amazon Prime Day, July 11. All respondents were located in the continental United States.
Data from PCA Predict is based on retail accounts for at least three years (to allow for accurate year-on-year comparisons). The data is based on global transactions (address lookups performed on the account).