15 years ago this week, the first UK purchase was made on eBay – a CD from German rock group The Scorpions for £2.89.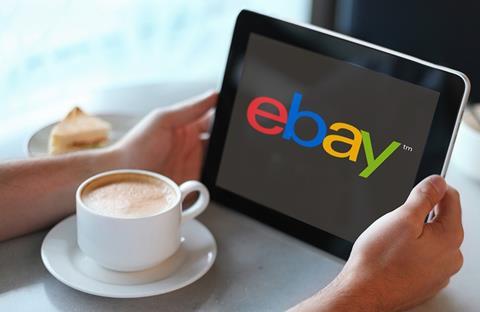 It might not sound like the most illustrious start for a business that went on to help revolutionise the way people shop, but everyone has to start somewhere. And eBay didn't have to wait long before it started processing huge – albeit still quite unusual – transactions. In 2004, someone paid £61,000 for a woolly mammoth skeleton, and in 2001 the site processed its biggest ever transaction – $4.9million for a Gulfstream II Jet.
Consumers quickly adapted to a shopping environment where they could buy everything from everyday items to private jets online. But retailers were slower, and along with Amazon, eBay continued to show traditional retailers how to do it for much of the 2000s.
So what has changed for eBay over the past 15 years? UK managing director Tanya Lawler says in essence, very little. "We were always a platform to bring together buyers and sellers and that hasn't changed to be honest – it's still the objective," she says.
"What we have become more involved in is making those experiences for buyers and sellers better every day – we are making that experience more engaging, more convenient and more interesting."
Ebay's journey has certainly been an interesting one. It began in 1995 in the US, when eBay's founder Pierre Omidyar launched an auction site he had created – the first product ever sold was a broken laser pointer, and the site has continued to surprise since, attracting both the buyers and sellers of a huge range of products.
Ebay launched in the UK the year after it launched on the stock exchange in the US in 1998, making a billionaire of then 31-year-old Omidyar and marking the next phase of the site's development.
No longer just an auction site
Since then, eBay's hold on the UK market has deepened – 19 million UK shoppers visit eBay every month, well over a third of the UK's adult population. It is no longer simply an auction site, instead hosting products from a range of retailers from Tesco to Karen Millen, and it has started to innovate around delivery. Its partnership with Argos, for instance, means eBay packages can be collected from Argos stores and Lawler says there are plans for more services such as this one.
"We'll continue to innovate around convenience, delivery or otherwise to make it easy for customers to get their goods. Plus I would like to find and look for new ways to help our suppliers sell on eBay," she says.
So what's next for the ecommerce giant? Much of its plans will be 'more of the same' – continuing to refine the experience that has enticed millions for the last decade and a half. But it is also evolving – Lawler says personalisation is the next big step.
"The next step is not technology based – now it's about people. The conversation that has been around for a long time, whether you call it CRM or personalisation, that has not really come into its own yet, in terms of getting a deep understanding of your customers."
Combining technical know-how with a deep understanding of people is not something anyone has cracked yet. Based on the last 15 years, eBay is among those most likely to get there first.
EBay: 15 fun facts from the last 15 years in the UK
The first item sold on eBay.co.uk was a three track CD from German rock outfit, The Scorpions, for £2.89.
In 15 years eBay has sold three billion items, worth £65bn.
Last Christmas, 14 gifts were bought on eBay each second.
Lady Thatcher's Handbag sold on eBay for £103,000.
Princess Beatrice's royal wedding hat (also known as 'the pretzel') fetched more than £80,000 on eBay with proceeds going to Unicef and Children in Crisis.
Ahead of the Brazil World Cup, 24 football shirts sold every hour.
In the UK an item is bought every second via the eBay app.
A pair of shoes sells every seven seconds, and a handbag every 19 seconds, via mobile.
9pm is the peak time for tablet shopping.
Today, more than 140 UK brands and retailers can be found on eBay.
75% of items sold on eBay are sold at fixed price rather than via auction.
UK businesses selling on eBay each export to an average of 39 counties – higher than anywhere else.
Over 200,000 businesses large and small sell on eBay in the UK.
Close to £70 million has been raised from the generosity of Brits buying items through eBay for charity, raising funds for thousands of charities across the UK.
Over 19 million Brits visit eBay every month – that's well over one third of the UK's adult population.