Amazon founder and boss Jeff Bezos' annual letter to shareholders never fails to generate news interest around the globe – and this year's missive was no exception.
While Bezos' challenge to fellow US retail titans to match his November decision to raise the minimum wage paid by the etail colossus to $15 an hour dominated the coverage, there were plenty of other illuminating points in his note.
Retail Week picks out a few of Bezos' key quotes.
Bezos on being a 'small player' in global retail
Yes, you've read that right. Despite being the richest man in the world off the back of the success of his etail empire, the Amazon boss says the business "remains a small player in global retail".
As part of his musings on "imagining the impossible", Bezos writes that bricks-and-mortar retail still accounts for nearly 90% of global sales and goes on to say that his vision for Amazon Go stores was to "get rid of the worst thing about physical retail: checkout lines".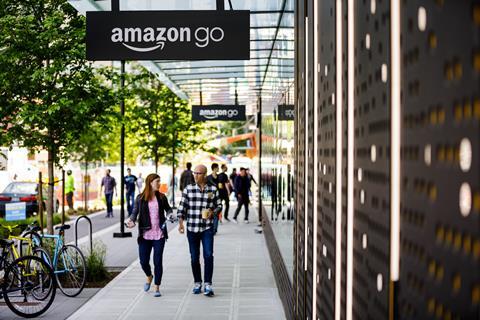 "Amazon today remains a small player in global retail. We represent a low single-digit percentage of the retail market, and there are much larger retailers in every country where we operate. And that's largely because nearly 90% of retail remains offline, in brick-and-mortar stores," says Bezos.
"For many years, we considered how we might serve customers in physical stores but felt we needed first to invent something that would really delight customers in that environment. With Amazon Go, we had a clear vision. Get rid of the worst thing about physical retail: checkout lines. No one likes to wait in line. Instead, we imagined a store where you could walk in, pick up what you wanted and leave."
Amazon has 10 Go stores across the US and has been reportedly been mulling a site in the UK.
Bezos concludes that with Amazon Go, the response from customers has been "magical" and he's excited by its future.
Bezos on failure
The Amazon boss was also fairly explicit about what has and hasn't worked out for the business over the last few years – pointing specifically to the failed venture that was the Amazon Fire phone, conceived as an iPhone competitor.
Without these kinds of failures though, says Bezos, the retailer never would have been able to develop the Amazon Echo and Alexa.
"As a company grows, everything needs to scale, including the size of your failed experiments. If the size of your failures isn't growing, you're not going to be inventing at a size that can actually move the needle.
"Amazon will be experimenting at the right scale for a company of our size if we occasionally have multibillion-dollar failures. Of course, we won't undertake such experiments cavalierly. We will work hard to make them good bets, but not all good bets will ultimately pay out."
Bezos says since the first-generation Echo, more than 100 million customers have now purchased Alexa-enabled devices.
Bezos on encouraging a 'builder's mentality'
Being one of the most successful business owners in the world does not happen overnight, but in his letter, Bezos says the key to achieving that kind of success is about fostering and unlocking an entrepreneurial spirit throughout the workforce.
"From very early on in Amazon's life, we knew we wanted to create a culture of builders – people who are curious, explorers. They like to invent. Even when they're experts, they are 'fresh' with a beginner's mind. They see the way we do things as just the way we do things now.
"A builder's mentality helps us approach big, hard-to-solve opportunities with a humble conviction that success can come through iteration: invent, launch, reinvent, relaunch, start over, rinse, repeat, again and again."
Bezos on the rise of third-party sales
While Bezos' letter contains the usual pearls of wisdom the wider retail community has come to expect, the Amazon boss' most recent memorandum is unique in that, for the first time, it revealed some previously unpublished data.
"Something strange and remarkable has happened over the last 20 years," writes Bezos, before revealing that in 2018, third-party sales on the Amazon platform accounted for 58% of total sales.
Since 1999, Bezos says: "Third-party sales have grown from 3% of the total to 58%. To put it bluntly: Third-party sellers are kicking our first-party butt. Badly."
While this might sound bad for Amazon, Bezos goes on to say that third-party sales generated $117bn in 2018, before having a dig at his most direct competitor in this sphere: eBay.
"The compound annual growth rate for our first-party business in that time period is 25%. But in that same time, third-party sales have grown from $0.1bn to $160bn – a compound annual growth rate of 52%. To provide an external benchmark, eBay's gross merchandise sales in that period have grown at a compound rate of 20%, from $2.8bn to $95bn.
"Why did independent sellers do so much better selling on Amazon than they did on eBay?" Bezos muses, before deciding that Amazon simply offers "the very best selling tools that we could imagine and build".