The footwear retailer had strong Christmas sales and plans further expansion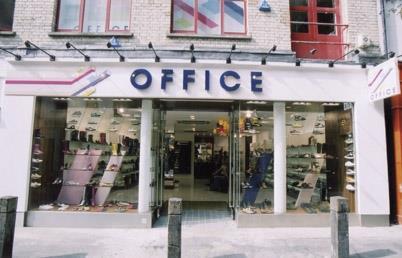 The management team at footwear retailer Office is likely to be in good spirits after a strong Christmas, and it has plenty of opportunities ahead.
Office reported a 26% increase in like-for-like sales in the five weeks to December 3, while sales rose 15% in the year to the same date. Total sales in 2011 were £165m.
A long-term strategy to increase concessions, the stewardship of non-executive chairman and retail veteran Allan Leighton, and potential overseas expansion have put the business on a strong footing.
Office has enjoyed a slow and steady rise to its position of a trend-led, popular high street footwear retailer. It was founded by husband and wife David and Liz Casey in the early 1980s, with Richard Wharton joining soon afterwards as managing director. Originally a concessions business, it opened its first store on London's King's Road in 1984.
Office positioned itself as a young, fashionable retailer to differentiate itself from rivals that had a more formal offer. When it launched, the shoe market was fragmented and dominated by British Shoe Corporation (BSC), which counted Shoe City, Shoe Express, Dolcis and Roland Cartier among its sister business within Sears UK.
Many of Office's competitors failed to evolve in the 1990s and the demise of BSC – due to pricing pressures from rivals and tired stores – was to its gain.
A younger, more discerning consumer drove consolidation in the market as vertically integrated supply chains were increasingly challenged by the availability of fashionable lines from newer, lower cost sources including the Far East.
Office, alongside other newer retailers including Faith, Schuh and Dune, was able to take advantage of this trend. It launched a number of sub-brands to capture different slices of the market. The retailer launched Offspring in 1996 to target the sports footwear market, opening concessions and standalone stores. It also unveiled Poste to target the upmarket men's sector in 2000, and Poste Mistress the following year as a women's boutique sister brand.
However, the seven Offspring stores, seven Poste and two Poste Mistress sites, which are mainly concessions, remain a fairly insignificant contribution to group revenue.
After 20 years of stable management with David Casey at the helm, Office was sold to Sir Tom Hunter's West Coast Capital (WCC) in 2003 for a reported £15m. Office ranges were made available in WCC's other retail business D2 and USC, but operational links with the brands were limited. Wharton remained at the helm of the retailer for three years before resigning in 2006.
A good performance in 2009/2010 led to further interest in the company, and Silverfleet Capital acquired the retailer for just under the £150m asking price. Management, led by chief executive Brian McCluskey, reinvested and took a 34% stake.
Office has significantly expanded its concession business in the last four years from four in 2008 to 40 at present, providing another source of revenue growth while adding space at low cost. The increase in concessions has largely been fuelled by strengthening partnerships with House of Fraser and Topshop.
Office has also increased its standalone store portfolio to 81 and hopes to open "six to eight" new stores over the next 12 months, McCluskey said in January.
International expansion has been limited. Office operates four stores in the Republic of Ireland and branched across the Atlantic with a concession at Topshop in New York in 2009.
Management has said trials in Europe are being considered and the retailer has invested £1m in developing dedicated websites in France and Germany to test the markets.
Leighton's recruitment, as well as former Jane Norman managing director Ian Findlay's appointment as finance director last year, are perhaps the biggest changes in a largely stable management team. Leighton, the former Asda boss, is expected to help drive expansion as the retailer invests in stores and online.
But although Office has enjoyed growth in recent years, the competition it faces from young fashion retailers expanding their footwear ranges is only going to increase.
Office could also face a fall in demand as youth unemployment rises and tuition fees increase.
But if it continues to put its best foot forward, Office will no doubt carry on pulling in the shoppers.
Walk the walk
Owner Silverfleet Capital
Chief executive Brian McCluskey
Operates in UK, Republic of Ireland, US
Stores 81
Online Website accounts for 10% of sales