Nostalgic toys "with a modern twist" are expected to fly off the shelves this Christmas, according to the Toy Retailers' Association (TRA).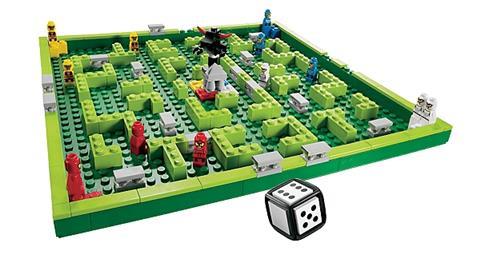 It has released its annual Dream Toys list – the industry's official prediction of Christmas bests-sellers. The list only contains toys priced £50 or less.
The Dream Dozen features Lego Games Minotaurus (pictured), Monopoly City and Sylvanian Families Caravan. Ben 10, a favourite in recent years, is also listed.
Chairman of the TRA and managing director of toy retailer The Enetertainer Gary Grant said: "This year, the toy industry has turned the latest trends into innovative and creative toys. The top 72 toys really demonstrate how forward thinking and pioneering the toy industry is. The list also reveals a trend towards nostalgic characters and brands which have been updated with a modern twist. Consumers are reverting back to heritage brands which will last longer than the Christmas season.
"With licensed toys combining the fun and familiarity of popular characters as well as collectable, pocket money priced toys making a big comeback this year, we are in for an affordable, family orientated Christmas".
The Dream Dozen
Bakugan Battle Pack, Spin Master (RRP £19.99)
Battle Strikers starter Set, Mega Brands (RRP £9.99)
Ben 10 Alien Force Kevins DX Action Cruiser, Bandai (RRP £29.99)
Bendaroos Mega Pack, Spin Master (RRP £19.99)
GO GO Pets Hamsters, Character Options (RRP £9.99)
GX Racers Tightrope Terror, Flair (RRP £22.99)
Kidizoom Multimedia Digital Camera, V-Tech (RRP £49.99)
LEGO Games Minotaurus, Lego (RRP £17.99)
Monopoly City, Hasbro (RRP £24.99)
Princess Peppa's Palace, Character Options (RRP £39.99)
Sylvanian Families Caravan, Flair (RRP £44.99)
Transformers Movie 2 Voyagers Figures, Hasbro (RRP £22.99)