The Austin Reed boss may have sold its landmark Regent Street store to new kid on the block SuperGroup, but it marks a new chapter for the menswear specialist. By George MacDonald.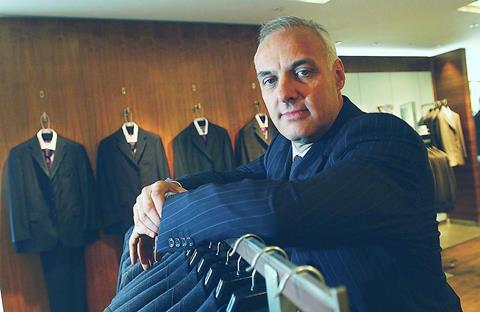 Want to know more?
Visit Retail Week Knowledge Bank for detailed data and analysis
Austin Reed boss Nick Hollingworth probably didn't have to think too long about whether to give up his Regent Street flagship to fashion retailer of the moment SuperGroup.
Hollingworth's business has traded at the same landmark location for 100 years but the truth is that it doesn't need to any more.
The prospect of getting out of an annual rent understood to be £2.5m, receiving a premium thought to be £10m to do so while still retaining a presence on the top shopping street through an expected move into Aquascutum's property, was almost certainly an offer Hollingworth couldn't refuse.
The last year for which Austin Reed accounts are available, up until January 2010, showed that the retailer, hit by the recession, made a pre-tax loss of £485,000 after making profits of just over £1.2m the previous year.
However, it would be wrong to think that Austin Reed, one of the high street's most venerable retail names, was forced into a property fire sale.
Under Hollingworth's leadership, since joining as chief executive of a still public company in 2004 and following its privatisation in 2007, Austin Reed has been successfully tailored into a more modern business.
Nick Hollingworth
Most likely to say: "I don't do personal profiles"
Least likely to say: "I'm very sentimentally attached to our Regent Street shop. I couldn't possibly part company with it"
Biggest personality asset: Charm
Commercial background: Buying
Former roles:
Managing director of Arcadia's 'mainstream' business
Managing director, sourcing and supply chain, Arcadia
Chief executive, Etam
Hollingworth is described by Simon Berwin - owner of menswear business Berwin & Berwin, which is Austin Reed's biggest suit supplier - as a charming bon viveur. But more importantly, Hollingworth - who shuns personal publicity and whose other half is Sir Philip Green's formidable but fun PR supremo Tania Foster-Brown - is a smart commercial operator.
Former Marks & Spencer boss Sir Stuart Rose, who has known Hollingworth for 22 years, describes him as a "very experienced and highly capable retailer". Rose says: "He slightly hides his light under a bushel and just gets on with running the business."
A career in fashion retail taking in companies from C&A to Arcadia resulted from, and contributed to, a sharp business sense. The decision to move out of the Regent Street flagship exemplifies that, believes Berwin, who says that the retailer was "rattling around" in that store.
Hollingworth took charge at Austin Reed at a time when the business had lost its direction and Hollingworth's career needed a new one. He had been managing director of Arcadia's 'mainstream' business, but left after Sir Philip Green bought the group and restructured it.
Berwin recalls: "When he got involved with Austin Reed it was going nowhere. He understands the high street, he's grasped nettles and moved the business on.
"He's brought some style. It was a bit fuddy-duddy. He's updated the product and the shopping experience."
That has been achieved by more contemporary looks and wearable product, maintains Berwin. While Austin Reed had a rough ride during the recession its other fascias such as CC - formerly Country Casuals - took up some of the slack. Hollingworth also took advantage of opportunity during the downturn, snapping up the Viyella business in 2009, which added £13.9m to sales. He has expanded overseas too through licensing.
"He slightly hides his light under a bushel and just gets on with running the business"

Sir Stuart Rose
Hollingworth also had to contend with the backdraft of the financial crisis, which contributed to the demise of investment business Dawnay Day, whose top management held personal shareholdings in Austin Reed. Dawnay Day's administration prompted fears that Austin Reed might follow in a domino-effect but Hollingworth successfully quashed the gossip.
Despite the difficulties at the eponymous business, suits are now apparently in greater demand. Berwin says that is discernible across menswear retail, partly as a result of more understated looks rather than a reliance on stripes, and that demand is driven by a mixture of fashion preference and economic conditions. "People want to make themselves look good and be impressive," Berwin explains.
Aurora Fashions chairman Derek Lovelock, who worked with Hollingworth at C&A's Clockhouse business, recalls Hollingworth's retail acumen.
"I always felt it didn't matter what it was, Nick was a good buyer whatever the department or commodity."
Rose concurs but adds: "He's a very good product sourcing man but a great all-rounder too - you don't get to be a chief executive without being that."
Berwin says: "If you look at him, his elegant style personifies what Austin Reed is all about."
Austin Reed may have gone through some tough times but his peers think of Hollingworth, sometimes dubbed "slick Nick", as the man who gave it a successful makeover and a future.