Net-a-Porter chief executive Mark Sebba tells Lisa Berwin about the challenges of running a business that just keeps on growing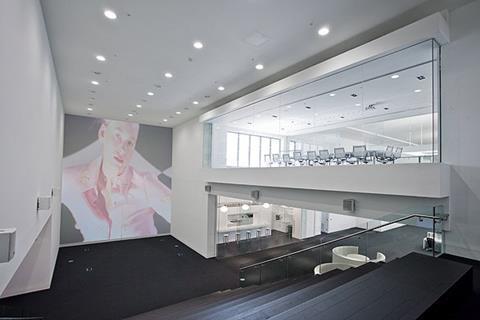 W hen you ask Mark Sebba why Net-a-Porter has been so successful, he jokes that it is "because I don't buy the clothes".
The former investment banker does not seem the most likely leader of a luxury fashion etail business but he is very much the financial brain alongside founder Natalie Massenet's inherent knowledge of luxury fashion.
"I have a financial bias, which works well with Natalie's attributes," says Sebba, who has been at the company since 2003 after coming in initially on a two-day assignment.
In the etailer's stylish new offices, an impressive, open plan space in Westfield London, Sebba talks with much admiration of the American former fashion journalist who set up the business 10 years ago.
"Natalie knew magazines informed women's buying - women were busy and it was a convenient way to shop. She had the idea that you should be able to create a magazine online and women would be able to shop from it."
In 1999 Natalie wrote a business plan and the business has remained faithful to that vision of an interactive magazine where women can shop.
At first Massenet was frequently told that women would not shop for higher-priced clothes online. Even as the company started to grow and Sebba came on board they encountered sceptics. In 2004, when it had a growing customer base, they were told they had reached "everyone they ever would online".
But Sebba says every day brings new customers for Net-a-Porter and its future audience is growing up online.
"Digital immigrants used to be our customers," says Sebba. "Now they are digital natives."
In April this year Massenet's determination paid off when luxury goods group Richemont bought the majority of the shares in the company in a deal that valued the business at £350m.
Sebba insists that Net-a-Porter has remained quite independent from its new parent group and culturally there has been no shift.
And it is its culture that he believes has been crucial to its success. The new head office epitomises the ethos of the brand - slick and stylish, with screens dotted around that update constantly when an item is purchased, so everyone across the business can see what is being sold and where.
Standards of service at Net-a-Porter and the way products arrive to the customer, beautifully packaged, have really added to its offer.
"We have a huge focus on service," says Sebba. But he adds that to succeed it has had to make sure its people are passionate about every discipline of the business. He points to its operations team as an example.
"We have a huge operations department and we are seeking to achieve service levels that are very testing indeed," he say. "99% of deliveries are dispatched within 24 hours of the order being received."
He says similarly high standards are set for every department across the business and achievements are always recognised and celebrated.
Another key decision they have made is to do as much as possible in-house, which includes operating their own delivery vans for customers in London and Manhattan.
The biggest challenges the business has faced have been to do with finding the space to grow. Until April this year the head office was above Whiteleys shopping centre in London's Bayswater. Its first warehouse was in Charlton.
"At the time it seemed like the O2 centre to us," recalls Sebba. "We were not sophisticated in those days about space planning. We have got much better and have been able to expand in Charlton, embarking on significant automation for it."
This is a significant and challenging process but trying new things and being a pioneer is what the business is about, says Sebba.
"We will be the first ecommerce platform to sell on the moon," he jokes.
Another challenge the etailer faces is that of buying in the correct supply for its growing demand.
"When you are buying for a season six months ahead and demand is growing as quickly as it has been, it can be difficult," says Sebba. "This is an area where we have had to become much more scientific. Our buyers don't buy a brands' entire output. They select very carefully and buy deeply but not so widely. On the shoe floor at [US department store] Saks, for example, you have a huge selection. On our site you find a smaller but perfectly formed selection. Great care goes into the mix."
The site is constantly updated and not only with magazine content. This month Net-a-Porter has started uploading new products three times a week - it had been doing so twice a week.
Some luxury brands have been reluctant to move into etail in a big way. Jimmy Choo and Anya Hindmarch were very early supporters of Net-a-Porter but Sebba admits there is still resistance elsewhere. Some brands still associate 'online' with 'cut-price'.
"We offer brands a marketing partnership and we are great supporters that all of them should have their own transactional sites, so they can show the brand in their own way."
What Net-a-Porter offers is a place where brands can be displayed alongside their peers with, for example, a shirt displayed in combination with another brand's trousers. Sebba says both the brands and customers really respond well to this.
Net-a-Porter's business now comprises 60% ready-to-wear clothing, 20% shoes and 20% bags. Its average order value is about £500, a figure that has stayed quite constant from the beginning.
The site currently attracts 3 million visitors a month, 10,000 of whom are new customers.
Net-a-Porter always sold Sale product but in April 2009 launched a new platform, TheOutnet.com, where designer brands can be bought at significant discounts.
It is set up to be quite different from Net-a-Porter and is not a Sale site for its parent. Rather it offers last season's stock, often bought separately.
"[Product] won't come off Net on a Monday and go on Outnet on Friday," says Sebba.
TheOutnet.com has been able to reach out to a different customer, who is more discount-led and not as set on always having the latest product.
In January 2011 Net-a-Porter will launch its next platform, Mr Porter, which will take on the luxury menswear market.
While Massenet had previously insisted that Net-a-Porter would always remain a womenswear business, through their experience with the Outnet they realised they would be able to set up a separate brand to cater for male customers.
"The turning point was realising from the Outnet that we could do a new brand. Mr Porter was conceived at about three in the morning the night we launched the Outnet," says Sebba.
With loyal customers from Net-a-Porter sure to buy the men in their lives clothes from Mr Porter, and men becoming ever more style-conscious, it seems set to be a significant new revenue stream for the group.
Net-a-Porter is one of the businesses which, like Asos, proved the validity of etail following the bursting of the dotcom bubble. With technology moving forward relentlessly, and new devices such as the iPad allowing Net-a-Porter to interact even more with customers, it looks likely to keep on growing and building on its powerful brand ethos.
Net-a-Porter
£500 Average order value
10,000 New customers a month
3 million Monthly site visits
£120m Latest annual turnover