Home shopping specialist N Brown has bought online lingerie retailer Figleaves for £11.5m.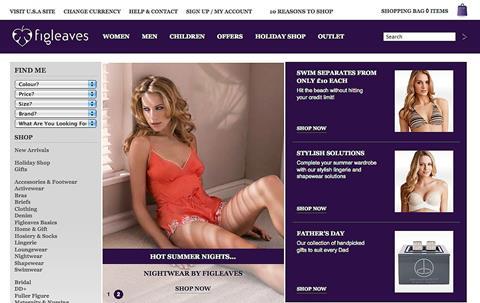 N Brown believes there are "significant opportunities" to generate both sales and profit growth through managing the business as part of its wider group.
N Brown will be working with the existing management team to create an integration plan and look at cross selling opportunities from its clothing and footwear ranges.
Chief Executive of N Brown Alan White said: "We are thrilled to welcome Figleaves to our portfolio of brands and are very excited about this acquisition which strengthens our position as the UK's largest online retailer of lingerie. It also demonstrates our commitment to continue to expand the e-commerce proportion of our business and to extend our product offers and customer base."
Figleaves, which was set up in 1998, sells over 100 lingerie brands and is forecast to generate turnover of £23m in the year to June 2010. It has over 1.2 million visitors to its site each month.
In February it hired corporate finance group GP Bullhound to advise it on a possible sale.