Vicky Bullen, chief executive at Coley Porter Bell shares her view of good and bad sites.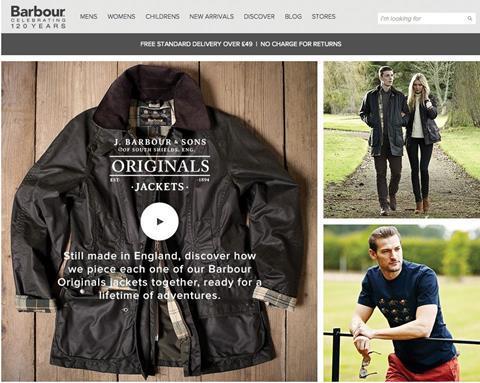 Barbour.com
Barbour's website is so much more than an online shopping site. It is not so much Country Life but Barbour Life.
Alongside a great selection of clothing, illustrated with high-quality photography, it has an enticing 'Rediscover' section that includes news, interviews, videos and the history of Barbour. There's also a Barbour blog, which covers everything from a 'how to' guide to food and drink. These features give a deeper sense of brand personality.
The site is easy to navigate and it really engages and draws customers in, offering a whole lifestyle alongside its waxed jackets and country classics.
Belstaff.co.uk
There's nothing intrinsically wrong with this website, but for a luxury brand that's steeped in history the site contains very little background information about the Belstaff brand.
The site is overly simple and appears to be just an ecommerce platform with little user experience.
The items of clothing are beautiful, high-end products but it is missing a trick in not making more of its rich heritage - this end of the market is reassured by legacy.
The clothes are top quality, the site easy to use, but the overall feel is that it's rather bland. Not even the David Beckham video could rescue it for me.