There's been a raft of co-buying sites launched recently, encouraging shoppers to use collective buying power to get discounts. Should retailers embrace the trend?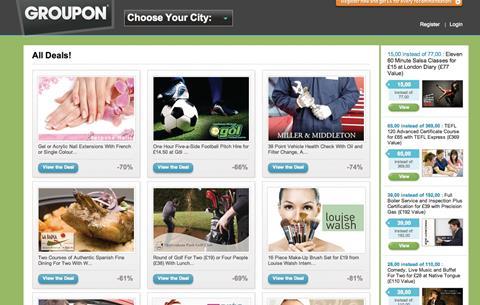 Why are we talking about it now?
Last week former ecommerce and managing director of HMV.com Gideon Lask launched online co-buying site BuyaPowa.com. While the most high profile of the current bunch, Groupon.co.uk, offers services such as travel and leisure experiences, BuyaPowa focuses on branded products only. The more people that purchase a product, the cheaper it gets, so users are encouraged to get co-shoppers in on the deal. The shopper that recruits the most new buyers gets the product for free.
Who else is in the market?
There are now a raft of group buying sites in the UK, and even more in the US, all subtly different variations of the same theme. KGBdeals has seen a success with its mixed offering and Incahoot has carved a niche for itself in the mobile phone and broadband market. Groupon is firmly established as one of the leaders with its focus on services, and LivingSocial is becoming a major player, with hugely discounted travel offers and free experiences to users who can persuade three others to buy the same deal.
Is co-buying here to stay?
Lask says shoppers will be increasingly drawn to co-buying services, which provide a community for shoppers to "use their collective buying power to demand the same bulk-buy discounts previously only enjoyed by retailers".
However, there is some scepticism among experts. IDC Retail analyst Christine Bardwell says: "Some of these sites have grown really quickly here and in the US, but their growth is already starting to plateau." Bardwell believes co-buying sites "will continue to have a place, but they will evolve and many will start to consolidate. In the future there might just be one place to go for this".
What does it mean for retailers?
Some believe retailers should interact with group-buying sites as a way of getting rid of excess and out-of-season stock. But others say that while the current trend – and economic climate – favour this type of business model, the craze will wear off. ECommera director Michael Ross says: "There's an economic catalyst at the moment but it feels like an unsustainable fad. I think we'll see a phase of experimentation and new models, then the market will start maturing."
Ross says there is an opportunity for retailers to embrace initiatives such as discount coupons and user-recruitment. "What today is seen as being a business model will become a feature of retailers' business in future," he says.