Click-and-collect promises to be in huge demand this Christmas and retailers are working tirelessly to deliver a seamless fulfilment service.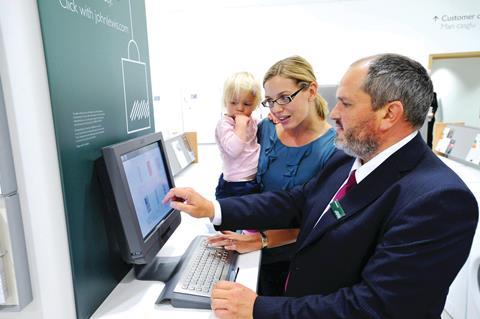 There are fewer than 100 sleeps until Christmas. Some younger shoppers may have already made their lists, but the lion's share of UK consumers will leave some things – or in the case of many men, most things – to the last minute. Bricks-and-mortar retailers are used to this surge in footfall at peak times. However, this year the strain is set to intensify as their online customers come in-store.
At John Lewis' 'Christmas in July' event, managing director Andy Street declared that the new battleground for retailers would be 'omniservice'. He went on to predict that click-and-collect would account for more online sales volumes than home delivery during the 2014 festive period. "We're pushing back click-and-collect to 8pm for next-day delivery on a much broader product range than our competition," he said, laying down the gauntlet to rivals.
So will click-and-collect be the main battleground in fulfilment services this Christmas, and what are retailers doing to ensure their service has the edge?
Planet Retail research in April suggested that 35% of online shoppers buy online and self-collect. For the likes of Next, it's as high as 45%, while at Argos, click-and-reserve accounts for 32% of total sales. "It's difficult to know where it will end up, but the direction of travel is faster and freer," says Argos supply director Graham Barnes.
By 2017, click-and-collect is expected to hit 76% of sales as shoppers look for convenience, speed and value for money. It's somewhat surprising, therefore, that just two-thirds of the UK's top 50 retailers offer this service. Despite the immediate cost savings, however, click-and-collect is not a service to easily do well. Andy Morrey, co-founder of the e-Nova Partnership, was the head of ecommerce at Argos when the service was developed and launched. "If some retailers did a proper analysis of their click-and-collect, they would be horrified to see they are losing money," he says. "Click-and-collect is a great service, but if it's not done right then you can reduce the overall value for your customers."
Paul Coby, IT director at John Lewis, agrees with this sentiment. "To provide a genuinely omnichannel customer service, everything has to work seamlessly together, including managing orders and the whole supply chain," he explains.
"You have to be sure the products are going to be in-store the next day to collect. This is a very immediate, customer-facing measure of how effectively your systems and processes are working together."
At no time is this more important, or difficult, than at Christmas. "The big challenge is trying to reduce the friction between the different channels," says Martin Francis, online trading director at House of Fraser. "The front end and the back end need to be really great." He explains that in previous years there has been a difference in the online and in-store Christmas peaks, with the online peak potentially happening up to four weeks before Christmas Day. "Last year was unique because the online and in-store peaks were really close together," he says. "For me, that means we are really starting to solve the delivery requirement for customers. They have faith in us."
Price is paramount
But is the rise of click-and-collect a sign that this faith doesn't extend to home delivery? A poor fulfilment service can affect the entire experience for customers, and relinquishing control of the journey to a third party in the final miles gives retailers sleepless nights. Click-and-collect has enabled shoppers to sidestep courier services, and make delivery on their terms for little or no cost. Indeed, price is an ongoing battle when it comes to home delivery. Finding the sweet spot between a low-cost and high-quality service isn't simple. "I think we're a long way from understanding what consumers will pay for [home delivery]," admits Barnes at Argos (see box, below).
Hermes plans to introduce advanced services that will allow the customer to "lead the process", says operations director Martijn de Lange. At Christmas it's all about speed, he says, with next-day delivery "exploding". This is where the convenience of click-and-collect might prove to be a winner this festive period, especially if more retailers begin to tweak their offers. Some are looking to relocate the collection desk to the front of store, while others are offering added extras such as adjacent fitting rooms so people can try on and, if necessary, return items immediately.
Francis at House of Fraser says that click-and-collect is not just about saving money: "It gives us even further customer engagement and brand loyalty, and shoppers have a high propensity to purchase additional items in-store on that journey."
Meanwhile, big data can be used to personalise offers to click-and-collect customers. Bluetooth beacons will alert staff when a customer enters the store, so items are picked and ready, with suitable offers passed on at the collection point.
The big question is just how close to the wire retailers will go with their fulfilment services this year. None are prepared to put their cards on the table just yet. Waitrose director of retail operations in the south Stephen Hider says the supermarket is rolling out technology and systems that will ease the experience in-store for click-and-collect customers. At Christmas, in particular, the aim is to make the process "as fast as we possibly can", he adds.
Jeremy Fennell, Dixons' ecommerce director, is similarly reluctant to divulge precise details of what the retailer's delivery options will be on Christmas Eve. "We're still heavily into negotiations with couriers so we can make the late delivery options as strong as we can," he says. "It's so competitive at that point of year, so we don't tend to do any PR around it [until much closer to the time]. That extra half-day or hour can be a competitive advantage."
Delivery charges don't pay
A recent survey of shoppers for Retail Week's The Consumer 2014 report found a general lack of tolerance for delivery charges. Almost half of those surveyed (48%) said they were not prepared to pay for anything above a standard delivery service. Of those that would, 43% said they would pay for express or next-day delivery, while 15% and 13% were happy to spend more to receive items on a Saturday or Sunday respectively.
Time slots were seen as much less attractive unless couriers could be tied down to a specific hour. At present, less than 2.5% of online orders are fulfilled using timed delivery, according to the IMRG MetaPackUK Delivery Index Report. This is an area that retailers and couriers are working hard to address, not least given that in The Consumer 2014 survey, 24% of shoppers said they would stop shopping with a retailer that couldn't offer delivery at a convenient time, and a further 45% would consider switching.
The views of the following 45-year-old man from London, interviewed during a focus group for Retail Week this summer, typifies the heightened expectations of multichannel consumers: "Convenient delivery affects who I shop with online. I will not use retailers that don't have a specific delivery date option as I don't want to wait around for days not knowing which day the courier is going to arrive. I will also prioritise retailers who offer click-and-collect or delivery to local stores.
If I am ordering items for home delivery then I prefer to use a retailer that has a timed delivery option, or is able to send me an email or text in the morning."