It's not just pure-plays leading the way in ecommerce evolution, bricks-and-mortar retailers are fast becoming bona fide etail experts. Matthew Valentine outlines the key trends emerging.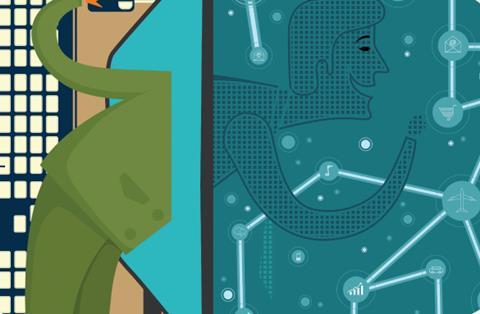 The ecommerce channel continues to evolve as shoppers' use of technology develops. Here we outline five of the
key trends retailers need to know about now.
1. Multichannel is mainstream
Not so long ago, it was just digital leaders dabbling in multichannel - only retailers such as John Lewis and Tesco had the resources and strategic inclination. Now it's harder to find a retailer that isn't deep into multichannel than one that is. Cross-channel shopping habits have swept across the retail industry, and everyone from DFS to Dixons has thought carefully about their customers' new shopping journey. "The big thing that's changing for us is having a solution and offer that works across all the platforms," says Dixons ecommerce director Jeremy Fennell. He adds a laser focus on services such as click-and-collect has developed in the past year.
"Shoppers want convenience, speed and choice. They want to shop anytime, anywhere, on any device," says Olivier Ropars, senior director of mobile at eBay Europe.
Some retailers have been weak in this area because different channels are run almost as separate businesses, says Darren Vengroff, chief scientist at online personalisation specialist RichRelevance. "You get this situation where the consumer thinks it is one brand and the people running the brand run it as three or four separate entities," he says. Solving this issue is an important task that retailers are beginning to address, Vengroff adds.
2. Mobile is key
The pace of growth in mobile sales has left some retailers floundering. According to trade body IMRG, 20.2% of online sales were made on mobile devices in the first quarter of 2013, up from 15.4% the previous quarter. The rate of growth has been phenomenal - in 2010 just 0.9% of online sales were via mobile.
"Getting consumer engagement right through technology holds the key. Mobile, in particular, plays a critical role.
Our view is that a commerce revolution is under way and mobile is leading the charge," says Ropars.
Sofa specialist DFS says there is a peak in tablet traffic to its site every time one of its adverts airs, as people reach for devices to start researching sofas, and mobile traffic overall to the DFS site has rocketed. Online and business development director Tim Stacey points out: "In the last two years it's gone from less than 5% of traffic to over 50% of traffic coming from tablets or mobile." He says 33% of traffic is from tablets alone.
Figures from RichRelevance, analysing 1.1 billion transactions in the first quarter of 2012, show UK shoppers are twice as likely to buy via mobile compared with US consumers. Mobile shoppers spent more too, with an average order worth £109.68 compared with £100.05 for desktop users.
But when Celebrus Technologies identified the top 120 etailers in the UK by revenue last month, it discovered only 36%of retail chains and 31.9% of pure-play online retailers offered a mobile app. IT services supplier Mastek, meanwhile, analysed the UK's top 50 online retailers in June and found more than a fifth failed to provide a mobile-optimised website or app.
EBay says dual screening is a specific mobile trend to watch. Watching television while using a mobile device to search for products or share opinion is becoming second nature for some consumers, and this could mean big advertising and product placement opportunities for retailers.
3. New ways to take on Amazon
Bricks-and-mortar retailers are making their assets work harder as their fight against Amazon's fearsome efficiency steps up a gear.
Amazon and its etail counterparts have undoubtedly played a role in the demise of retailers such as Comet, but the tide has turned slightly this year.
Bricks-and-mortar retailers have rallied, figuring out what they can provide that businesses such as Amazon can't, and shoppers have responded well to retailers such as John Lewis and Dixons, which have focused on in-store experience and good sales advice.
Delivery and logistics have played a big role in improving the bricks-and-mortar offer. Companies such as Shutl and Yodel have helped retailers utilise store networks as an asset, providing premium services such as delivery within 90 minutes of ordering, which retailers including Argos and Oasis offer.
Click-and-collect has also been a fundamental part of physical retail's fight back. The convenience of picking up products on the way home, or from a local store, is for many starting to trump Amazon's one-click, next-day offer.
Dixons is about to launch same-day delivery, and Fennell says it is this sort of service that will give traditional retailers an edge. "We are offsetting the cost of delivery by creating value in our proposition that customers are prepared to pay for," he says.
4. The development of data
Offering a more personalised service could be key to turning more online browsers into shoppers, and an essential part of that is being able to correctly identify buyers who use multiple devices to visit websites. "Retailers are starting to grasp the need to go beyond segmentation and understand individual customers," says Katharine Hulls, vice-president of marketing at Celebrus Technologies. The next step for many, she thinks, will be to gather data across different devices to piece together a more rounded view of a shopper.
Identifying visitors across different devices can help avoid mistakes, such as offering a mobile user a discount on a product they bought earlier on a laptop. It also allows retailers to move beyond algorithmically driven personalisation - 'people who liked that also liked this' - to more sophisticated offers. "Segmentation, valuable as it is, isn't necessarily enough anymore," adds Hulls.
Matt Curry, ecommerce manager at sex toy retailer Lovehoney, says personalisation could also help improve profit per customer, which he says has become a prime concern. Curry maintains the UK's mature ecommerce sector now needs to move from a stage of acquiring customers to one of optimising relationships with them to increase profits.
Fennell, meanwhile, says data is playing a role in influencing which marketing method to use. "We are using analytics to understand what return on investment we can get from marketing spend," he says. Retailers increasingly want to know exactly how much they are getting for each online campaign they pay for, he adds.
Curry also says that 'featuritis' - offering increasingly complex online features - will come to an end as retailers optimise their service. "When you are looking at 3D augmented virtual fitting rooms you may have gone a bit too far. People are starting to scale back - stop adding features and look at being less broad-brush," he advises.
5. Engagement
The growth of 'discovery shopping' strategies is pushing retailers to make an effort to engage with online consumers at a deeper level, according to Adam Stewart, marketing director at Rakuten's Play.com.
He says: "We define this as a shift from the bargain-bin vending machine of the industry's early days to a more content-rich, socially-driven shopping experience where entertainment and interaction, and not just the price, are absolutely paramount."
Using concepts such as gamification, which turns online shopping into an opportunity to play, or integrating elements of social media to encourage peer-to-peer recommendations or advice, is all part of discovery shopping.
Also vital is the provision of curated and relevant content that will keep shoppers exploring and discovering, meaning retailers need publishing skills in addition to their other expertise. With such elements in place, retailers can seek to provide an online form of window shopping that is more engaging than the physical equivalent.