Rising smartphone and tablet ownership has led to an explosion in mobile shopping, which is taking a greater share of spend each year.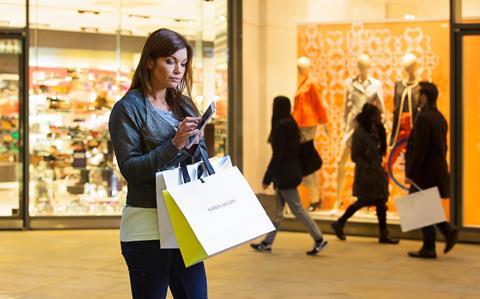 Claiming that the biggest names in retail are experiencing a huge upswing in sales on mobile devices is an understatement.
Swift technological development has fostered dramatic growth in mobile retailing. According to market analysts IMRG and Capgemini, sales through mobiles and tablets were up 138% in 2013. In fact, sales through mobile devices now account for about 30% of the total online retail market, and retailers expect that percentage to grow even more in the coming year.
By 2015, every transaction will involve a mobile device at some point in the customer journey, claimed Shop Direct chief executive Alex Baldock, while John Lewis managing director Andy Street nailed his colours to the mobile mast by boldly announcing online sales will account for 40% of overall turnover by 2020.
So with the mobile era well and truly established, how can retailers get to grips with the new consumer mindset and, crucially, what can they do to stay ahead in a game where the rules are changing every day?
It's fashion that is leading the way in m-commerce. In an arms race among a fiercely competitive clothing sector, a first-rate mobile strategy is now vital to capture a fickle but lucrative pound.
Why fashion? John Lewis online director Mark Lewis says it is partly because mobile has enabled a new pattern of clothes shopping to emerge, one which is proving very popular. "Fashion makes up the largest proportion of our mobile sales, with a typical journey seeing customers browsing for clothing on their phones during the evening commute and picking up in a shop the next day," he says.
It wasn't too long ago that this would have been an alien concept to many retailers. Now it is becoming a standard shopping model.
CACI principal consultant Alex McCulloch predicts that 27% of all online fashion sales will be carried out on mobile devices by 2023 – more than double the current rate.
This rapid growth, McCulloch says, isn't just driven by technology, it's also driving technology and a major push in collection- point development. "The speed of acceleration in technology has taken everybody by surprise – devices have been complete game changers. They have brought click-and-collect back," he says. "Now there's a question of how retailers and landlords handle this. There's been a big rise of click-and-collect hubs."
Adapting to trends
Among all the predictions about dramatic growth in mobile shopping, it's the rise in click-and-collect shopping that retailers might want to heed the most, to the point that CACI research suggests that in certain centres, up to a quarter of shoppers are now only there to pick up online orders.
This trend is set to continue, so retailers will need to rely on their supply chains more if shoppers' high standards are going to be met.
Michael Kliger, managing director for Europe and APAC at eBay Enterprise, an omnichannel consultancy and subsidiary of the online retailer, says getting the supply chain right is going to be crucial because the speed of delivery is so vital in today's market.
He says: "As m-commerce continues to grow, shoppers increasingly expect speed, convenience and choice as standard. To keep pace, retailers are being forced to take a fresh look at their operations. Adapting their fulfilment models should be top of the agenda. This will be a key differentiator as retailers do battle for online spend."
But, says Kliger, while the expectations of shoppers have moved on, retailers haven't necessarily kept pace.
He observes: "Same-day fulfilment is the holy grail to meet the expectations of today's impatient mobile shoppers, but a lot of UK retailers are falling wide of the mark because they still service home deliveries and in-store pick-up from a central distribution centre."
Retailers need to get to grips with the same-day model quickly if they're not to let an opportunity pass them by. But they also need to understand, says McCulloch, that the rise of click-and-collect isn't a sign that physical store retailing is becoming any less important – just the opposite, in fact. The key, he says, is to ensure that whatever channel shoppers choose, they find the same top service and quality on offer in each.
He says: "At the moment, the industry sees it in terms of channels, but that isn't the way the customer sees shopping. The customer sees it in terms of what's most convenient."
Steve August of international omnichannel consultancy Revelation Global, says this multi-layered approach is key, and getting inside shoppers' minds is the only way retailers can truly cover all the bases.
August says: "Mobile has made the process of retailers finding out about customers' experiences in stores much easier. That's going to grow as more phones get into people's pockets. Retailers will be so much more adept at understanding the full customer experience. They can even do a virtual 'shop along' with their customers; they can understand what the thinking behind everything is while they are in the moment."
A big part of this, he says, will be using emerging mobile technology and an increasing availability of research apps to track customer behaviour. "Mobile research apps mean you can track people in any way you want, and record any aspect of the experience, including their goals and intentions. You can really understand how different types of people shop."
Customer understanding
On the surface, it seems that everything has changed in retailing. Customers have become harder to predict, with many finding shopping heaven sitting on the sofa, tablet in hand, or first thing in the morning, in bed, on a mobile long before the physical store has opened.
Modern retailers have to factor these and many other types of shoppers into their models, along with the traditional in-store relationship, and get the fulfilment process right across all the channels.
Lewis is in no doubt about the importance of this shift and says mobile was pivotal in the John Lewis story of 2013.
"Getting the mobile experience right was crucial last year," he says. "Two stand-out milestones for us were the 61.8% rise in click-and-collect orders and a shift to traffic from mobile devices making up over half of traffic to our website."
But while the game seems as complex as ever, retailers need to bear in mind, says August, that some things don't change. Most of today's innovations are simply modern tweaks to an age-old idea – to succeed in retailing you have to understand your customer.
"Ultimately, you have to try to understand the experience across all channels," he says. "Shopping is shopping."
Super shoppers
'Super Shoppers' who are aged 25 to 44 and working in professional or managerial roles, are twice as likely to shop via a mobile device and 30% more likely to conduct research online before visiting a store.
Source: Deloitte's The Omnichannel Opportunity Study commissioned by eBay