A raft of updates has revealed that many well-known retailers have successfully faced tough conditions. We pick out some of the ways they have achieved it.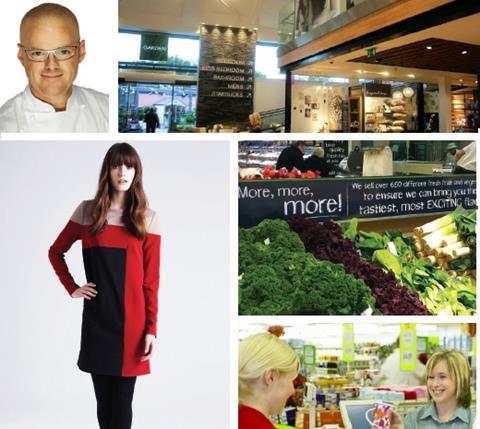 Product innovation
The unveiling of a Swarovski crystal-encrusted loo seat won headlines but B&Q owner Kingfisher has been delivering newness across its more everyday offer.
Kingfisher is investing in developing its own-ranges and as part of its 'creating the leader' strategy has established a group innovation and design team in France. It comprises 50 engineers and designers, charged with injecting "newness, interest and fun into the market", explains Kingfisher UK & Ireland chief executive Euan Sutherland.
The retailer is "working with the best suppliers and universities in the world" to build a portfolio of common brands that can be sold across the group to drive sales densities, margin and customer choice. One example is printed bamboo flooring, which is half the price of traditional exotic woods and three times harder than oak.
Similarly grocer Waitrose, which has been performing strongly according to Kantar data, has made the most of its association with celebrity chefs to launch products – Heston Blumenthal mini-Christmas puddings will make their debut this Christmas.
Measureable, transparent self-help programmes
In tough times shared clarity of purpose can make a big difference to performance. Next and Kingfisher both have a small number of principles that drive their business and ensure a
common understanding of direction among stakeholders.
Next has four primary objectives: delivery of ranges that reflect fashion trends "while working hard to mitigate the effects of cost price inflation", increasing sales by adding profitable new space – particularly at present through Home stores, profitably increasing Directory sales domestically and internationally, and careful management of costs, capital expenditure and its balance sheet in order to return surplus cash to shareholders.
Kingfisher's Delivering Value programme includes objectives such as increasing B&Q's profit, exploiting the opportunity to build a trade business
in the UK, increasing group sourcing and reducing working capital. For each target, specific measures have been initiated, resulting in, for instance, roll-out of common ranges across the group and addition of new services such as click, pay and collect in 15 minutes for trade customers.
Exploiting m-commerce opportunities
While some retailers' online businesses remain rudimentary or even non-existent, others are already well advanced in optimising their websites for sales made using mobile phones and other m-commerce initiatives.
Debenhams, which updated on Tuesday, has enthusiastically embraced m-commerce. Last week it unveiled a mobile-enabled site and claimed to have become "the first on the high street to offer a complete mobile package across all mobile technologies".
The department store group said traffic to its store from mobile phones rocketed 225% year on year during August. It already had apps for the iPhone, Android and Nokia. In its first six months of operation, the iPhone app was downloaded more than 500,0000 times and has generated sales of just over £1m.
Debenhams has exploited consumers' increasing use of mobile devices in other ways. It used Aurasma technology to bring together TV and print media by enabling people to play its TV ads or link to its site simply by pointing their device at a print advertisement in a magazine or on a billboard.
Low-cost and low-risk internationalisation
While the UK remains in the retail doldrums there are still international opportunities to be had – without necessarily shouldering the risk of opening stores or misreading unfamiliar markets.
Next is taking the online route. The retailer reported at the interim stage that international sales at its Directory arm "have grown much faster than anticipated". This year Next expects sales outside the UK to reach about £32m – the figure was just £10m last year. Next already trades in 42 countries and within the next six months will start selling into China, Japan and Russia. It is also selling products through third-party websites internationally.
China and Russia are also on the agenda for French Connection, which is focusing on franchise, joint venture and licensing deals as it chases growth – less risky options than company-owned stores. In China, where sales through a joint venture rose 14% in the first half, French Connection will open another 35 stores over three years.
Opportunistic acquisitions
One retailer's misfortune has been another's opportunity during the harsh trading climate. The demise of Focus enabled Kingfisher to snap up 29 stores for £24m. The shops will be converted to B&Q and the deal enabled Kingfisher to extend its reach in areas where it was under-represented.
Debenhams also took advantage of the downturn to pick up attractive assets. The retailer bought fashion brand Principles, which it has added to its Designers range after a reworking by Ben de Lisi. In the second half, sales of the range were up 70%.
The approach has been taken by other retailers, even those in more straitened circumstances. Home Retail, for instance, bought the Habitat brand.
Focus on cost efficiency
Ensuring cost efficiencies is vital to any retail group in a difficult economic climate.
Morrisons has highlighted that increasing efficiency is one of its key strategies to drive the bottom line. Two examples are: driving store productivity and revamping systems.
Morrisons' York store, dubbed 'Fresh Working Lab', is designed to improve store productivity without affecting customer service, and there is a targeted £100m of productivity gains across the business. Initiatives piloted at the store have included opening its service counters later in the day and reducing the amount of shelf-stacking that takes place during store opening hours.
The moves are among a number of initiatives to have been rolled out to the rest of the estate and Morrisons said
it was on track to deliver on targets for the project.
Morrisons' six-year, £310m investment to replace its IT systems is scheduled for completion in 2013/14. While it might be an initial burden in terms of cost, the grocer said it would deliver £100m of annual savings in that year.
Next's four key objectives include carefully managing costs, capital expenditure and its balance sheet. That enables the retailer to continue to return surplus cash through buying back shares and enhancing earnings per share.
Improvements to the core offer
Investment in the core offer should be an area of focus for retailers to ensure the brand remains consistent despite tough times and that the product a retailer is famous for continues to evolve and improve.
Dunelm said last week that it continues to develop its 'Simply Value for Money' proposition, which combines price, reliable quality, strong availability and friendly and knowledgeable service, alongside choice.
The retailer said choice was at the heart of its proposition, and meant it attracted a cross section of customers, including more affluent consumers who may previously have shopped elsewhere but were now buying its
premium ranges.
Morrisons has also been investing in its core proposition in a bid to differentiate itself from its rivals. One of the strings to its bow is its emphasis on fresh foods. It has been piloting a 'fresh lab' in its Kirkstall store, near Leeds, in which fresh food is merchandised in a new way, and introducing new fresh produce lines. It will now roll out elements of its fresh trial to other stores.
Targeted promotions
The high street is awash with promotions as retailers fight for consumer spend. John Lewis showed just how tough it is at the moment last week when it reported that its profits had been dented by the intense discounting on the high street, triggering the use of its 'Never Knowingly Undersold' price promise.
So retailers need to achieve cut-through in a crowded market and should target their promotions accordingly.
Morrisons chief executive Dalton Philips said last week that part of the reason it was still increasing sales strongly was because promotions were striking the right chord with customers. Examples included deals on the big national brands that customers want to buy, offers of money off petrol when customers spend a certain amount in stores, and its 'Price Crunch' campaign which lowered prices of everyday items that shoppers put in their baskets.
Active property management
The difficult economic climate may not have many advantages for retailers, but one is that some store groups have been able to take advantage of good property deals.
Next, for example, pointed out last week that the difficulty in the homewares sector had meant it could acquire new space on reasonable terms. It has also been extending and relocating stores in locations where it is under-spaced rather than by opening new stores.
While some retailers worry that they should not be opening new stores because online sales are growing so strongly, Next believes its success online is enhanced by its retail presence.
It said Directory customers valued the integrated delivery and returns facility it offered in its stores – 13% of customers collect their orders from stores and more than half of all returns come back through stores.
However, it still ensures that any new space is highly profitable and that the terms of new leases are relatively short. Of the stores it opened in the past year, 80% were on leases of 10 years or less.
Range extension
Retailers can grow by extending their successful brands beyond the core offer. Both Laura Ashley and Next have shown there is mileage in the strategy.
Laura Ashley reported strong profits last week and outlined how it had widened its range. The retailer expanded its customer base in furniture with the introduction of contemporary lines, and is also making a play for the gift and accessories market.
It has tested stand­alone gift and accessories stores, and now more shops will also introduce tea and coffee from October and relaunch fragrances and beauty products.
Next has just opened its first home and garden store and has plans for more.
Retailers need to be careful not to expand too much, though, and dilute their brands. Laura Ashley said that its move back into fragrance, for example, was stimulated by the number of customers asking when it would revive the category.