Like-for-likes have slipped for the first time in years as the battle on deals hots up, but Morrisons is sticking to its guns.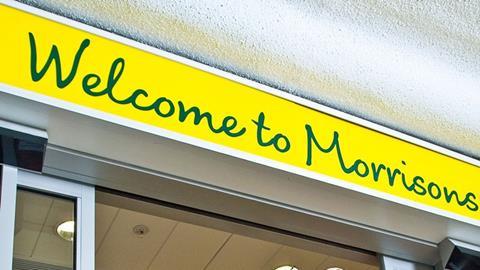 Morrisons revealed its first like-for-like sales decline in almost seven years last week, bringing to an abrupt end chief executive Dalton Philips' honeymoon period after two years in the job.
But Philips claims extraordinary circumstances, including the weak economy and the widespread use of vouchers elsewhere in the food market, have eaten into performance.
Philips cannot do much about the first factor, but he is determined not to follow suit on the second, despite Tesco's adoption of vouchers to drive trade.
"We are prepared to sit back from this activity rather than trying to make small market share gains at any cost," says Philips.
"[Tesco] has used eight vouchers in the last 15 weeks so it's obviously something they feel passionate about. We use vouchers selectively as part of an overall mechanic – sometimes we use fuel promotions, sometime vouchers or our Price Crunch."
A time for value
Morrisons has faith that its investment in value – which includes the new M Savers range – will win shoppers in the long term. But the grocer's critics are concerned that approach overlooks the increasingly promiscuous nature of today's shopper.
Morrisons sceptic Jonathan Pritchard, analyst at Oriel Securities, says: "Morrisons' first-quarter statement disappointed. Growing EBIT in these conditions will be very difficult, especially as voucher activity is unlikely to wane.
"Morrisons is in a challenged spot right now. It does not have access to the growth parts of the market – convenience and internet – and it is seeing its customer base eroded from above and below."
As well as a weak market, ravaged by declining volumes as a result of eroded disposable incomes, Morrisons had a very strong comparable quarter last year, resulting in growth that would have been hard to live up to this time around.
Moreover, the bulk of Morrisons' stores remain in the North, exposing it and fellow Yorkshire grocer Asda to the worst of recessionary impact on spending, according to the Asda Income Tracker.
The marriage of William and Kate as well as an extra bank holiday and good weather in April last year provided an uplift in 2011 that Morrisons has found impossible to match.
Morrisons is always the first of the big grocers to report quarterly sales, which makes it difficult initially to benchmark its performance against the market. In good times, this gives it a position of strength.
But when it has to report figures such as last week's, it's an unenviable role. However, Philips believes the other grocers will display similar patterns. Stripping out last year's phenomena, Philips says like-for-likes would have been flat.
In fact, there was little surprise in the numbers. Kantar Worldpanel data had already shown that Morrisons' market share fell to 11.9% in the 12 weeks to April 15 this year, from 12.1% in the same period last year.
But is Philips' account the only reason for the slowdown? Nomura analyst Nick Coulter believes Morrisons has lost the momentum it had last year and is already feeling the effect of Tesco's renewed determination to win spend by improving the customer experience in the UK. "Although deploying fuel discounts, Morrisons stated that it had 'stepped back' from the vouchering activity […] Without the wherewithal to compete, Morrisons has necessarily ceded volumes.
"We think this represents an early manifestation of the Tesco headwind and, while we expect Tesco to become more progressively targeted, we think the headwind will persist."
But Philips brushed off suggestions that Tesco's new £1bn strategy to revive its domestic market would impact on his business.
"They have set out their plans but I'm excited about our fresh format," counters Philips. "They are going to put service back into the store and fresh skills back into the store – it does not surprise us. Just as they move into the space we already occupy, we are looking at new areas. I feel confident about the strategy."
Verdict analyst Cliona Lynch says Morrisons is responding in the correct way. "It's interesting that Morrisons has not gone down the price-matching, comparison route. I think it's the right direction because the other grocers are matching and trying to drown each other out. Because Morrisons does not sell online, it's harder for shoppers to price match," she says.
A new proposition
Morrisons set down a marker in the sand in late March with the re-opening of a former Safeway store in Royal Tunbridge Wells.
The shop closed six years ago because its offer did not appeal. Re-opened using Morrisons Fresh Format model, including better navigation and with a focus on fresh food, the grocer is confident the shop will chime with the affluent middle classes that characterise the local demographic.
"We are on to something special here," Philips says of the Fresh Format, which is now in 31 stores and will be in 48 by the end of the half.
But concerns remain that the upmarket layout may alienate Morrisons' core customer. "They need to balance the improved stores against price perception," says Lynch.
Mintel retail director Richard Perks says: "For the people who shop at Morrisons week-in-week out, they may have gone too far."
The conundrum may be Philips' biggest challenge – staying true to the reality of who his shoppers are while refurbishing stores to a modern standard. Whether the £400m investment in refreshing stores and rolling out the Fresh Format will be enough to significantly wrest back shoppers from Asda and Tesco remains to be seen.
It is also worth remembering that the vast majority of shoppers at Morrisons' 477 stores have seen no difference to their local supermarket, despite the vibrant new format presented widely to the press and City. To shoppers, ranges and store standards may be far more front of mind.
On the first point, it is widely believed Morrisons is moving in the right direction. The 300-product strong NuMe healthy eating range has created a new and lively own-label offer, while budget range M Savers has made a strong debut, spearheaded by brand director Belinda Youngs.
However, concerns remain over store standards. Perks says: "It has been cutting costs too far, taking too many staff out of store."
Some store staff agree. One store manager told Retail Week: "Standards and morale in stores are so low at the moment people are trying to get out everywhere, but the problem with that is that no one will be replaced, just causing more stress for everyone else.
"It's a shame because you have on one hand all the Fresh Formats looking smart but then you have departments with no staff on and aisles buried in cardboard."
A further concern has been some change at the top at Morrisons. The grocer has lost marketing director Richard Lancaster to Poundland, while human resources and communications director Norman Pickavance is to leave at the end of June.
However, Morrisons has made some appointments too, including Tim Bettley as its first director for clothing and former White Stuff executive Alison Lancaster as its online market head.
Philips brushes off accusations that the departures are cause for concern. "That's absolute baloney. We have a very strong management team," he insists.
"We speak to headhunters all the time and the feedback is that we have assembled a very fine team. People come and go when you have 131,000 staff. We have more stability at the top table than any other retailer."
Panmure Gordon analyst Philip Dorgan agrees. "There's been a few changes but you have to break a few eggs to make an omelette," he says.
Future prospects
After the royal wedding chimed so well with customers last year, there are clearly some opportunities for Morrisons to take advantage of the Jubilee. Indeed, the grocer has already hung out its Union Jack bunting in anticipation.
But long-term prospects remain unclear. The grocer's strategy to increase the extent of vertical integration through acquisitions is likely to continue and will help it strike the balance between quality and prices in a way that should appeal to customers.
Philips has made clear that Morrisons is testing, investigating or moving ahead with various business ideas – convenience stores, non-food and online operations – but last week's update will increase pressure on him to communicate a more decisive plan to capitalise on new growth potential.
Philips has this far refused to be rushed, arguing that while Morrisons will continue to compete hard day to day, a long view must be taken. "We believe in profitable growth and that's how this business has always been run," says Philips. Staying true to the principles of founder Sir Ken has served Morrisons well so far and, while he is trying out new ideas, Philips clearly believes they will continue to do so in future.
Grocery market shares ande developments
Tesco: 30.7% (2011:30.9%) The UK's biggest retailer is fighting back with a new budget range, marketing and a £1bn strategy to warm up stores
Asda: 17.6% (2011: 17.6%) The Walmart-owned grocer is on song as its continued low-price message works well and the addition of former Netto stores allows it to reach new shoppers
Sainsbury's: 16.6% (2011: 16.6%) The supermarket group has cited its Brand Match mechanism as helping drive like-for-likes. Own-label performance has been strong
Morrisons: 11.9% (2011: 12.1%) The grocer has been using fuel and its Price Crunch to draw in shoppers. It is under threat of losing customers to the discounters, as well as Tesco and Asda
Co-op: 6.5% (2011: 6.9%) The mutual has blamed a poor economy for a difficult period. Higher prices have kept consumers away but a trend towards convenience may yet play in its favour
Waitrose: 4.5% (2011: 4.3%) The John Lewis Partnership-owned grocer continues to be strong and last week extended its Tesco price match to 7,000 products
Aldi: 2.7% (2011: 2.2%) The grocer is continuing to achieve phenomenal sales growth and will benefit from dented consumer confidence
Lidl: 2.8% (2011: 2.6%) The discounter has revived its fresh offer and branding with a focus on British provenance
Iceland: 2% (1.9%) Its future now certain under Malcolm Walker, the frozen food specialist continues to make market share gains as consumers seek to cut the amount of food they waste
Ocado Increased its marketing activities and launched an own-label shop-in-shop. The etailer is likely to be hit by Waitrose offering free delivery
Data source: Kantar Worldpanel 12 weeks to April 15.
No figure for Ocado