Marks & Spencer has set out its stall to regain the initiative in fashion retail with the unveiling of an autumn/winter range designed to reassert its reputation for quality and style.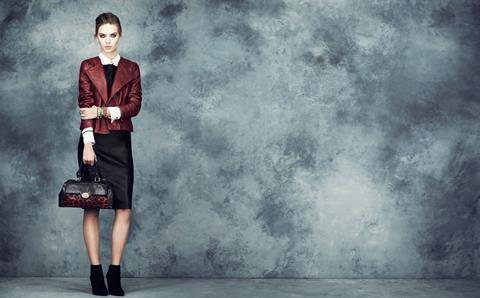 The range is the first to bear the creative handwriting of style director Belinda Earl. It is viewed as pivotal to improving Marks & Spencer's fashion fortunes and its success or failure is likely to shape the future of chief executive Marc Bolland.
M&S executive director of general merchandise John Dixon, who moved across from the retailer's food division last year to take charge of clothing after sales slid, said quality and style would be "put back into the heart" of M&S clothing.
Dixon said the success of apparel, and womenswear in particular, is key to that of M&S overall: "Womenswear is the golden key to the golden door. If it is firing on all cylinders, there's a halo effect."
As she showed off her handiwork, Earl acknowledged competition from low-price retailers and the grocers, which have become powerful players in apparel, but maintained that M&S is also about "fashion with a capital F".
Her priorities have been to "reassert leadership in quality, put aspiration and fashionability back into the M&S brand" and create clear and compelling sub-brands.
Quality improvements will be evident in better fabric, fit and finish and the retailer has introduced a quality charter "that will align standard-setting ethics with a confident design ethos".
Greater fashionability will show through in the Limited Collection, for instance. It is being renamed Limited Edition and will be updated fortnightly "to regularly bring customers the latest interpretations of the key season's trends".
Dixon said M&S's purpose in fashion is "inspiring you to look and feel your best" and that the vision is to be "the benchmark fashion retailer for design and quality".
Three-quarters of M&S's clothing sales are made to customers aged 45 and above. Growth would come, Dixon said, through existing customers shopping more of M&S's categories and channels and by building a younger customer base aged 30 and over.
He said M&S would not lose sight of its core customers but that attitudes and lifestyles increasingly cross traditional age boundaries. "The fashion world has changed at a faster pace than we have," he conceded.
As part of its plan to overhaul the apparel offer, M&S will hone its brands and sub-brands. In the autumn, the core range will be relaunched as M&S Collection.
The retailer is also be reducing the number of options in womenswear by 10% in order to back winning lines and remove slow-movers.
Although City investors hope to see quick improvements in M&S's fashion sales when the new range goes into stores, Bolland said transformation would not happen overnight.
"This is a step in the right direction," he said. "What is important is the direction of travel."
Investec analyst Bethany Hocking said: "The team came across very well, in our view. Crucially, there is a renewed focus on product quality - we thoroughly support this (and it is long overdue).
"On the fashion credentials, we were less enamoured – but as always, until clothes are in stores it is harder to fully assess. On price, M&S is planning to attempt to increase its price positioning through mix - this is sensible and to some extent is the only option in our opinion.
"More negatively, we are somewhat concerned that yet again the strategy relies on younger customers – to what extent it does management would not be drawn on. As with any strategy, execution is now key."