After revealing plans to exit Marks & Spencer in April, what does the future have in store for chief executive Marc Bolland?
It sounds unlikely that Marc Bolland will become chief executive of another UK retailer.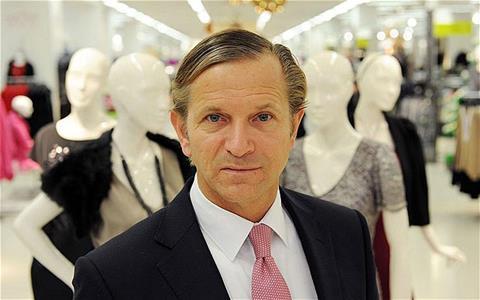 Ten years since he arrived in Britain to run Morrisons, and almost six since taking the reins at Marks & Spencer, Bolland has indicated he fancies a bit of a change.
He intends to remain in this country, where he feels very much at home, but his focus will be on a portfolio of interests ranging from "interesting" businesses to "giving something back".
He is, for instance, a non-executive director of The Coca-Cola Company – a position he has held for a year.
He is also on the board of children's charity Unicef, a position he took after taking time out from work to help in the aftermath of the Haiti earthquake in 2010.
As he revealed his departure plans today, Bolland cited both as indicative of how he aims to spend his time in future.
Regretful tone
He sounded excited about moving to pastures new but also struck an elegiac note as he prepared to hand over M&S to Steve Rowe.
He said he has loved the past six years at the iconic high street name but observed that running M&S "is not a job, it's a life" – something his predecessors and no doubt his successor would almost certainly agree with.
His legacy, he said, lay in M&S's much enhanced infrastructure, its far stronger multichannel capabilities, a food business that is motoring and improved margins.
Bolland said that it feels the right time to stand down, but there was a regretful tone too. "You're never completely finished, never really ready," to leave such a role he said.
He never quite slew the dragon of pressure on fashion sales, but all in all was confident he leaves M&S "healthier and stronger".
He said of the changes he has made, "if you see the merits a little after my time, I'm glad for the company".
Bolland fixed some of the basics at M&S, although not all. But some of the foundations he laid give Rowe something to build upon.
Marks & Spencer's new chief executive Rowe to succeed Bolland this weekend
1

2

3

4

5

Currently reading

Analysis: What next for Marc Bolland as he prepares to leave Marks & Spencer?