Incoming M&S boss Steve Rowe has his work cut out for him, despite racking up around a quarter of a century at the retail stalwart.     
The Marks & Spencer 'lifer' who started his career on the M&S shopfloor at the age of 15 has worked across many of its divisions, including his current role leading the struggling general merchandise arm.
But the challenges he faces for the division are myriad and complex.
M&S revealed today its intention to focus on three key areas in its general merchandise business: availability, design and range – and Rowe will be marked against these three performance factors once he takes over in April.
Availability
"The biggest of the three factors is availability," says Verdict analyst Honor Westnedge.
"They have started to address the product and have rationalised their offer and made products more desirable in terms of fashion trend which has driven the footfall of younger customers.
"But these customers often go away disappointed because the product is not available".
She adds: "They now need to understand their shopper and their sizes. They need to profile their customer bases in both key cities and regions."
"Steve Rowe is a natural choice because he knows the company and will be able to utilise specific supply chains"

Rebecca Marks, Conlumino
Conlumino analyst Rebecca Marks adds: "It's not the product that's wrong. Pieces like their culottes and their blazers are great.
"But what goes against that style is the availability of those items. They need to sort that out.
"Steve Rowe is a natural choice because he knows the company and he will be able to utilise specific supply chains.
"They need to be able to accurately estimate the volumes they need because they have a long lead time for suppliers. They can't get quick reactions and they do perhaps need to look into shorter lead times."
Customer base
One of M&S's most problematic issues is the broad nature of its customer base for fashion.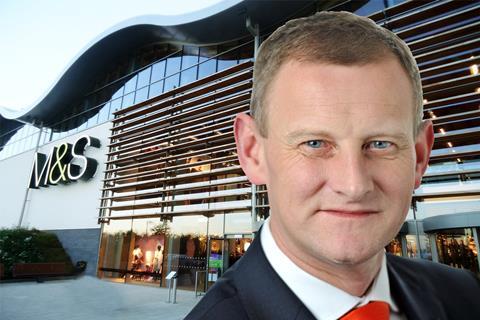 While the retailer has rationalised its ranges in recent years, there is a strong argument that it didn't go far enough.
"The thing with M&S is that they are trying to appeal to too many people," says Conlumino's Marks. "And while key fashion pieces are important, they need to distinguish who they are targeting through both clothing ranges and marketing.
"It's confusing, they have too many different angles."
Seamless approach needed
Rowe also needs to ensure a seamless approach between how ranges are presented in marketing and how they appear in stores so that customers are faced with a singular proposition.
"Quality and design detailing and fabric have been enhanced so price points are justified," says Westnedge.
"Rowe can continue with this and he has a great team under him with style director Belinda Earl and the recent recruitment and promotion of womenswear director from Queralt Ferrer from Inditex."
Westnedge adds: "Rowe should understand customers, he's been there 25 years and he really does understand the brand.
"He now needs to take it forward and focus on product."
Marks & Spencer's new chief executive Rowe to succeed Bolland this weekend
1

2

3

4

Currently reading

Analysis: How will Steve Rowe turn M&S's fashion fortunes around?

5