Named Retail Leader of the Year at last night's Oracle Retail Week Awards, Mark Price has transformed Waitrose. Jennifer Creevy meets him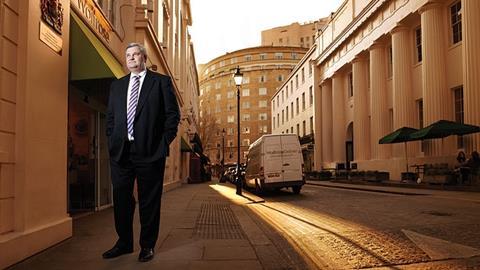 For a premium grocer to emerge as the fastest-growing supermarket in a year when the economy was in the depths of recession is almost inconceivable.
But Waitrose managing director Mark Price claims his company's success is no surprise - rather the result of a carefully executed plan and a good dose of old-fashioned elbow grease.
Over the past year Price has not just steered Waitrose though the tough climate, he has led the John Lewis Partnership-owned grocer to record heights, trouncing rival Marks & Spencer and growing ahead of the big four supermarkets.
For the 13 weeks to December 26, 2009, Waitrose reported like-for-like sales up 9%, while M&S's food like-for-likes in its third quarter to December 26 were up just 0.4%.
Price - who was named Retail Leader of the Year at the Oracle Retail Week Awards last night - has surprised the industry and won admiration from competitors. M&S executive chairman Sir Stuart Rose admitted that he had been "bested" by Waitrose over Christmas.
For Price, Waitrose's bumper growth is just "the tip of the iceberg". He tells Retail Week: "We ended the year as the fastest growing supermarket in the UK, and overtook M&S to be the number one premium supermarket. That is a fitting reward for three years of hard work, but there is a lot more to come this year and next."
Instead of sitting tight to ride out the recession like many retailers, Waitrose prepared for battle. The grocer invested in price, upped its promotional participation, expanded its portfolio, launched value line Essential Waitrose, and struck deals with health and beauty giant Boots and the Prince of Wales' organic food brand Duchy Originals.
Price is pragmatic in that he acknowledges a big chunk of growth came from the launch of Essential, which exceeded the grocer's expectations. Waitrose invested £40m in the range and Price says it needed to grow volume sales by around 5% to cover that investment. What actually happened was that volume sales grew by about 17%.
"Essential has been massively positive for us," says Price. "It meant that those occasional shoppers who came to us for treats realised that they could now also do their full weekly shop with us."
Model change
But Price points out that Essential was part of a wider plan formulated when he returned to Waitrose in 2007, after a stint at sister company John Lewis. "What we recognised when I returned to Waitrose was that it was operating on a fundamentally flawed model,
and we had taken it as far as we could," he says.
Price explains that, since the early 1990s, Waitrose had relied on customers trading up and increasing item price. "As competitors opened near us, we would lose a few customers," he says. "And the way we protected ourselves was to think of ever more exotic lines we could sell, and we relied on customers trading up."
He says that business model worked while the economy was on the up, but "as soon as the economy hit any kind of rough water it became pretty flawed". The model adopted by Waitrose's competitors was based on volume, Price explains, while "we were looking to sell ever more expensive items to fewer customers".
The model needed to change, says Price, because "we knew if there was an economic downturn we would be in a degree of difficulty".
Waitrose switched to focus on volume and efficiency. Volume growth came partly from store expansion, and Price recognised that Waitrose needed a range of different formats to hit space targets.
Historically, Waitrose had been growing organically at an average of only two shops a year. "We realised to stand still in grocery retail, you have
to open about 5% floor space a year, so we needed to be flexible on formats," he says.
Size competitive
Waitrose launched its small town format - between 10,000 sq ft and 15,000 sq ft - a larger convenience format of between 5,000 sq ft and 7,000 sq ft and in the next two months it will open its first small convenience shop, covering 3,000 sq ft.
"We now have a range of formats from a full supermarket of 70,000 sq ft right down to 3,000 sq ft. It means we compete with the other grocers on space," he says. Price also stepped up store acquisitions, and was first to secure a clutch of the Woolworths stores when they came up for grabs.
This year, Waitrose plans to open 12 larger supermarkets and a mix of 10 large and small convenience shops. "In operating flexible formats, we have guaranteed Waitrose a pipeline," says Price.
To fund the store expansion, Waitrose drove efficiencies in supply chain and the business structure. It launched a programme called End to End Supply Chain, whereby Waitrose negotiated with suppliers on how best to package and deliver stock to reduce prices. And in stores, Waitrose sought to make the product replacement programme more efficient. Overall, Price estimates the supply chain programme will lead to savings of around £30m to £50m.
In stores and at the Bracknell head office, Waitrose sought further efficiencies. "We looked at how we structured the business not to lose people but to make it more efficient," he says. "The growth of the business is to retain people but we were able to make changes, which led to savings."
The supply chain and structure changes meant Waitrose was able to fund its 5% floor space growth a year, adds Price.
Driving volume in Waitrose's existing estate came through the launch of Essential, more promotions and lowered prices. Over the past three years Waitrose has invested £120m in reducing prices, which meant that "last year on 12,000 lines we were just 3% different in pricing with Sainsbury's", he says. The level of in-store promotions also increased from 400 to 800, which Price says "is now the same number as all our main competitors".
Price and promotions, as well as the launch of Essential - which Price stresses was about reducing prices, not quality - meant Waitrose has been able to increase its number of customers, averaging around half a million more, he says.
Inroads in multichannel
Multichannel was also key to volume growth. The grocer invested in Waitrose Deliver, which Price says has grown by around 100% over the past year, principally driven by offering free delivery, which he claims "makes Waitrose the cheapest online grocer".
Price is insistent that Waitrose Deliver is complementary to the retailer's partnership with online grocer Ocado, which also delivers Waitrose food. While the relationship has reportedly been fractious at times, Price maintains: "Ocado presents a great opportunity to get the Waitrose brand to more people." The tie-up is due for renewal in 2013 and Waitrose can start to deliver within the M25 in 2012.
He says Waitrose is "hugely supportive" of Ocado's potential IPO - the John Lewis Partnership has a 29% stake in the business - and "Ocado and Waitrose Deliver can operate side by side".
Price also launched non-food online, made up of 60% John Lewis products and 40% Waitrose-sourced lines. "I have a great relationship with Andy Street [John Lewis managing director] and we've been able to work through the line between what Waitrose sells and what John Lewis sells, and it's clear that in non-food we wanted to leverage the John Lewis business," Price says.
The last part of the "volume jigsaw" is the premium tier of food. Waitrose bought the licence for Duchy Originals, developed its Seriously range of
"indulgent desserts" and last month launched its Menu From range - a selection of mains and starters created by chefs including Pierre Koffmann and Bryn Williams.
The top tier
The Duchy Originals by Waitrose range will grow from 100 to 300 products this year. "What it will stand for is British, ethical, organic and the best quality you can find," says Price. "And that will become our top-tier range, meaning we have sorted out all the tiers in Waitrose, leading to good volume growth so far and more to come."
He adds: "We wanted to make sure, whether shoppers want to buy for everyday or gourmet, Waitrose is the place to go. If you're trading down from a restaurant, then we have Menu From, with Pierre Koffmann beef bourguignon or coq au vin, but equally if you want beans on toast,then we have Essential Waitrose bread for 75p and beans for the same price as other supermarkets."
The partnership with the Prince of Wales is one that Price holds close.
He says: "The Prince has built an outstanding food brand over the past 20 years and he made a choice to sell to us, when he could have got a fortune selling it to private equity. He's a campaigner for British farming and stands for everything that Waitrose stands for."
Price, as much as Waitrose, has made a commitment to the Prince to develop the Duchy brand and ensure that it stays true to its heritage. This commitment, coupled with that to the Waitrose board, makes it likely that Price will stay on in his role for the foreseeable future rather than take up another job.
Despite being tipped as a leading contender for Marc Bolland's replacement as Morrisons chief executive, Price has always asserted his attachment to Waitrose.
While loath to talk about himself - saying at the start of the interview that he could talk about Waitrose "until the cows come home" but not about himself - he says the "job isn't done yet at Waitrose and I have made a commitment to finish it".
"We've built a sustainable model for the next decade but there is more to come. And I have made a personal commitment to the Prince on Duchy and want to see that come to fruition."
He adds: "When you're a child, you either want to work in a sweetie shop or become a train driver. The adult equivalent of working in a sweetie shop is working at Waitrose. It's hard to see that there would be a better job in retail, and I want to stay to make sure
Waitrose is the best it can possibly be."
Price is confident that this year will bring as much growth for Waitrose as last. In spring, the partnership with Boots will launch, in which Waitrose will provide the lunchtime offer for Boots, four trial Waitrose shop-in-shops in Boots, and Boots will supply health and beauty products to Waitrose.
Waitrose will also open further service station outlets in partnership with Welcome Break and Price says he wouldn't rule out further partnerships "if the right opportunities arose".
Another area Price is keen to push is international, an opportunity of which he says "we have not scratched the surface". He is adamant, though, that "we are under-represented in the UK, so there is a lot of growth to go for here first".
Perhaps most importantly, Price is keen that Waitrose continues to innovate. "We have worked really hard to become the number one premium grocer and our watch-words are quality and innovation," he says. "Whether it's our frozen lines or Duchy or our mince pie ice cream, our commitment is that we are a foodies' food store, and we push on quality and innovation. That's the exciting part of the job."
In the space of three years, Waitrose has been transformed under Price's leadership. And while he is insistent that it is the strength of the team, and not just him, that has steered Waitrose to its dizzy heights, Waitrose would surely be a different business without the self-styled "chubby grocer".