The UK's oldest supermarket worker reaches his use by date, aged 95, Carpetright staff get an unwanted surprise and Morrisons tries out an interesting slogan.
Watch out, Wilf is about
It's a diligent retail chief executive's prerogative to drop into stores unannounced to check everything is shipshape.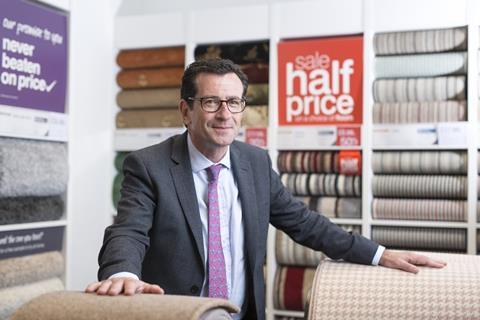 But some store colleagues have been known to cheekily tip off their peers in the local area, giving each other a heads-up when the boss is in town and thus scuppering the element of surprise.
Indeed, when Carpetright chief executive Wilf Walsh nipped into one of his branches last week, he caught colleagues red handed.
Walking up to a desk, his eyes were drawn to a note that read: "Watch out! Wilf Walsh is in the area today."
Never one to waste a potentially humorous opportunity, Wilf took out a red pen and added "too late" to the warning sign.
He retired to watch the reaction that ensued when the penny quite quickly dropped.
UK's oldest supermarket worker reaches use by date
Many look forward to retiring, but not everyone gets to do it twice.
Reg Buttress, an employee in the Cwymbran branch of Sainsbury's, is set to retire next month at the ripe old age of 95.
Thought to be Britain's oldest supermarket worker, Buttress began his second stint of employment after growing extremely bored during his first retirement when he was 65.
Having joined Sainsbury's in 1981, he has worked under five different chief executives.
A spokesperson said: "We are extremely grateful to him for his hard work, dedication and commitment to Sainsbury's over the past 35 years".
Happy retirement Reg!
Morons since 1899
If Morrisons' turnaround efforts under David Potts are anything to go by, it's doing itself something of a disservice at one store in Somerset.
The grocer unwittingly became the butt of jokes online after some of the lights went out on its store signage, leaving the fascia reading: 'Morons since 1899'.
The image, which was posted on the 'Bridgwater Matters' Facebook page by Steve Tomaszewski, went viral on the social networking site.
Fortunately, Morrisons was able to see the funny side, saying: "We're having the sign fixed but in the meantime we're pleased we're giving customers a chuckle!"
Given its recent performance, its giving shoppers far more than that.