Waterstones gives one customer an exclusive shopping experience, and Bunnings leaves its customers a little flushed.
Bunnings customer feels a little flushed
Aussie DIY chain Bunnings has created plenty of interest since opening its debut store in St Albans at the start of February, but this week it left one customer a little flushed.
TCC global insights director Bryan Roberts seemed to get a little confused in the toilet aisle, which is somewhat misleadingly placed next to a sign directing customers to the public toilets.
Roberts joked on Twitter: "I did get thrown out after misunderstanding the signage."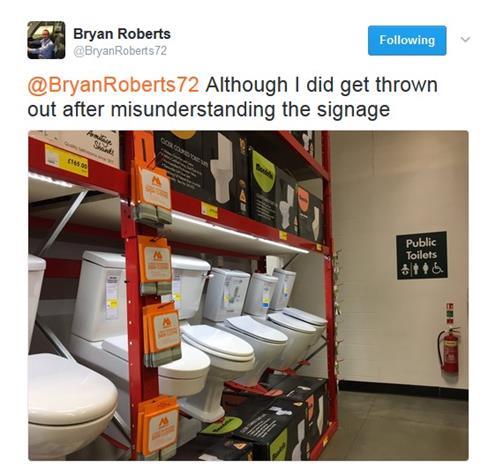 An exclusive Waterstones experience
Waterstones has been shaping up its store portfolio with cafés, cocktail bars, pop-up cinemas and events.
But one customer took his love for the bookshop to extremes.
Deep in thought, browsing the rows of books in Waterstones' Cambridge branch, Oliver Soskice found himself in a rather unfortunate situation.
While he was shopping upstairs, staff locked up and went home.
Soskice was trapped. "When I came downstairs, there was an unearthly silence and then I realised I'd locked myself in," he said.
He triggered the shop's lights and alarms as he tried to escape, but it took Soskice over an hour to be rescued.
That said, there are worse places to be trapped.
Potter's tweeting madness
You have to take your hat off to the north London bookshop owner who is tweeting Piers Morgan the entirety of the first Harry Potter book.
Simon Key, co-owner of the Big Green Bookshop in Wood Green, may have his work cut out, but in retrospect it's a genius bit of guerrilla marketing.
Key's project was sparked after Morgan began a Twitter spat with Harry Potter author JK Rowling. Morgan told Rowling he'd never read a line of the Potter books.
But our concern for the bookshop owner is: how will he juggle serving all those extra customers flocking to his shop, while typing out more than 32,000 tweets?