Burberry takes flight at Heathrow Terminal 2 and there is an unexpected windfall for Intu shopping centre visitors.
Up, up and away with Burberry at Heathrow
Burberry's trenches have been worn by the likes of Captain Scott and former brand ambassador Kate Moss.
But lesser known figures to don the gabardine coats include hot-air balloonists Air Commodore Edward Maitland, Auguste Gaudron and Charles Turner.
In 1908, the trio flew 1,117 miles from London's then intact Crystal Palace to Russia, wearing Burberry gabardine to protect them from the cold at the high altitude.
Now, the fashion house has celebrated their journey by installing a 15-metre tall hot-air balloon at its new pop-up store in Heathrow Terminal 2.
Made by the Sebastian Cox studio and workshop, the Burberry balloon installation incorporates iPads so that passing travellers can create and print Cox-designed Burberry postcards to send to friends and family.
Thankfully the only high-altitude cold that modern travellers will need protection from will be a plane's chilly air-con.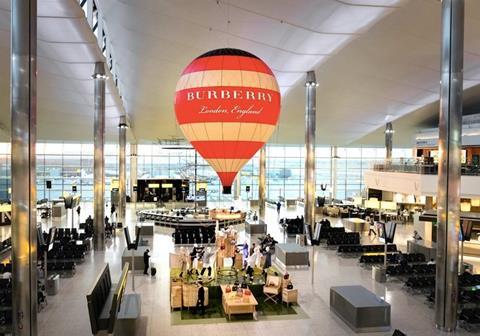 An unexpected windfall for Intu shoppers
Footfall levels have recently dipped at UK shopping centres, but Intu will seemingly stop at nothing to draw a crowd.
This spring, the shopping centre group is throwing money at its visitors.
Intu has released across its 14 malls hundreds of origami birds made by artfully folded £10 notes, in the hope of delighting and surprising its shoppers.
A team of experts spent more than 130 hours creating hundred of origami birds, which are being hidden for lucky shoppers to find.
Research by the shopping centre concluded that finding money was the nation's happiest surprise.
This was followed closely by hearing your favourite song on the radio, getting a refund you thought was a bill, hearing from an old friend unexpectedly and getting a compliment from a stranger.
Research also found that women get more happiness from shopping than men and are likely to browse for longer.
It just goes to prove the many folds and layers within consumer behaviour.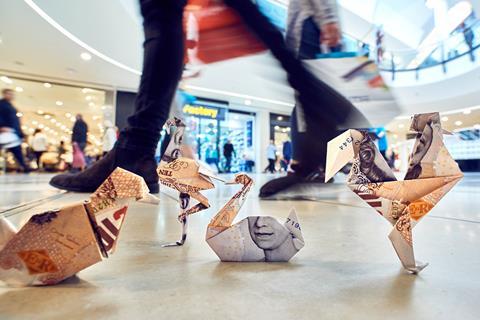 Ikea's got it in the bag
When luxe fashion house Balenciaga went to market with its Ikea-inspired blue tote bag, the world was taken aback by its 2,000% markup with a price tag of $2,145 (£1,661).
Ikea responded on social media to tell consumers on how to distinguish an authentic Ikea Frakta from a 'fake' Balenciaga.
"It rustles when it shakes, it can carry an array of things such as hockey gear, bricks and water, it cleans up easily with a dousing from a garden hose and it has a price tag of just 99 cents."