Retailers including Sainsbury's Argos, Boohoo and Zalando give their take on the future of ecommerce logistics at MetaPack's Delivery Conference.
The whole business of retail and logistics is going through a "paradigm shift", said chief executive Patrick Wall of delivery specialist Metapack at the Delivery Conference earlier this week.
Customers are expecting super-fast delivery as standard; new technology is disrupting online – a form of shopping barely out of the nest itself – and behind the scenes unprecedented levels of collaboration between rivals sharing data and logistics are being talked about.
"It's just a matter of time [until] a same-day delivery becomes the norm in Europe. But not all aspects of delivery are improving at the same speed"

Olga Bressers, Adidas
"The concept of delivery is fundamentally changing in the modern world," Adidas director of omnichannel models development Olga Bressers says.
She explained that Adidas has invested big money into its operations and has created a sleek multi-platform, multi-device service, designed with the sportswear brand's unique customers in mind.
And with consumers' appetite for convenience well and truly whetted, there are good reasons for Adidas – and others – not to be complacent.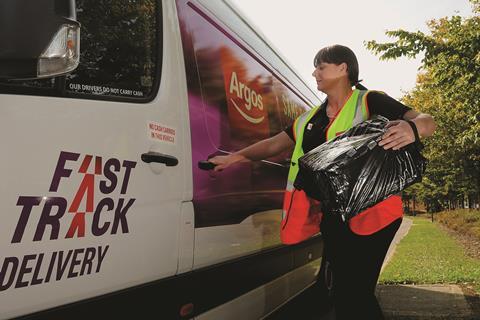 Bressers says: "It's just a matter of time [until] same-day delivery becomes the norm in Europe. But not all aspects of delivery are improving at the same speed.
"If you do it wrong the whole world will for sure know about it. Social media is playing a more and more important role."
Retailers become tech companies
One retailer that knows all about how much work goes into getting in shape for the modern era is Sainsbury's Argos.
Argos says its transformation has been a mammoth task.
The retailer, which was acquired by Sainsbury's last year, has focused on digitising its business.
Its chief digital and marketing officer Bertrand Bodson says the company now thinks of itself as much of a tech company as a retailer.
"We've invested massively in turning our traditional stores into digital stores. It's not just about clean, speedy, efficient stores – a lot of the investment was on the back end behind the scenes," he says.
Retailers and logistics providers won't need telling that behind the scenes is where it all happens.
Not least Asda, which over the past decade has undergone what Paul Anastasiou, senior director for business development in the Asda Logistics Service, describes as a "fundamental change" in its back-house operations.
Anastasiou says that the "seminal year" came in 2010 when the company decided to link up its click-and-collect operations with its current logistics network.
"We had 11 million sq ft of warehouses in the UK, and being able to use that massive infrastructure was unique. Instead of scaling up home delivery, we scaled up click-and-collect," he says.
While Asda and Sainsbury's Argos are thinking big with their domestic hybrid clicks-and-bricks models, etailers at The Delivery Conference were thinking even further afield.
Last mile focus
Cue an ecommerce phenomenon: Zalando.
With a huge expansion already behind it and big plans ahead – this year the etailer is turning its hand to providing logistics to other brands via its Fulfilment by Zalando service – the company is looking to be as streamlined and agile as possible.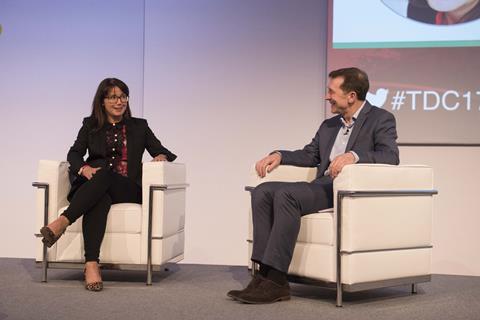 SVP of operations David Schröder says a key focus for this is the crucial "last mile" – the final step of the whole process.
He says: "We need strong partners to enable this fast delivery. We need flexibility from our last-mile partners. We see a need to flexibly adapt those routings while the driver is on their tour. Otherwise the costs really explode."
Easy returns drive repeat custom
Another big loss that etailers traditionally want to avoid lies in what Anastasiou described as one of the "pain points" in online shopping: returns – a costly business for etailers and an unwanted task for shoppers.
"We should take all the friction away from customers. Don't worry about return rate going up, as your frequency will go up"

Carol Kane, Boohoo
But while many retailers view returns as a major downside that can wipe out a big chunk of the profit from a sale, Boohoo joint chief executive Carol Kane says that retailers should see them as an opportunity.
"We should take all the friction away from customers. Don't worry about return rate going up, as your frequency will go up.
"You've got to make returns easy; when they're comfortable with the brand they will keep shopping", she says.
Critical collaboration
But some problems fall outside of the normal business rule book. And on the conference floor, much of the talk was about the bombshell news from June last year – the British public's vote to leave the EU.
For an industry geared around connectivity, with business' models based on cross-border movement, the implications are far-reaching.
Metapack's Wall says in "extremely difficult circumstances", it is critical that governments in Westminster and Brussels allow ecommerce to "continue to operate in a borderless fashion", and not be stifled by punitive tariffs and duties.
"We want to see co-operation between all retailers and brands who share the same interest," he says. "It will become a huge issue if this isn't addressed. It will be consumers who will be immensely frustrated."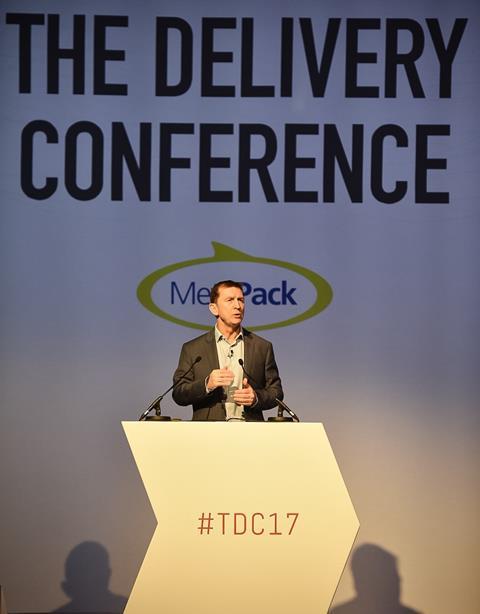 For this to happen, collaboration and joint lobbying need to be done, he says.
In fact, collaboration might just be the buzzword of the conference. One of the hottest trends to look out for this year, Wall says, is the notion of data systems moving from being "closed" to "open".
In other words, businesses sharing that most valuable of commodity: customer information.
He says: "There's a web now where everybody is connecting in all sorts of ways; the technology is changing but that ecosystem is becoming far more connected. The irony is that to better serve the individual, everybody else needs to connect even more."
In the UK's competitive retail landscape, the idea of sharing data might sound like a sin.
But new concepts are emerging all the time, and bold minds are changing delivery as we know it. The future is rapidly being written.