Modest by nature, the head of H&M in the UK and Ireland is also justly proud of his store's recent results. Tim Danaher discovers his plans for more openings and different formats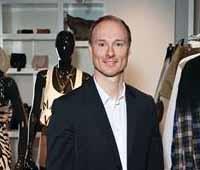 He could do without the unseasonably warm weather. But in every other respect Magnus Olsson, country manager for H&M for UK and Ireland, must be a happy man.
Last week's third-quarter trading update from the Swedish fashion giant included a lot of negative numbers from many of its longest established territories yet – alongside the US – the performance of the UK stood out, with total sales rising 21% in local currency. Even the Irish stores managed a 7% increase. For the first nine months to August 31, UK sales were up 20%.
It's an achievement which has bucked the market at a time when many rivals, particularly at the younger end of the spectrum, are bemoaning the trading conditions. Yet Olsson is unlikely to get carried away. Conversations with the modest Swede are peppered with the word "humble" and the phrase "listening to customers", yet he is also clearly proud of what's been achieved.
Speaking to Retail Week at the belated launch of its Westfield Stratford City store last week – when crowds once again descended on the centre to grab opening day bargains – Olsson explains how H&M is seeking to position itself differently from the retailers it is traditionally associated with.
"If we are perceived as a premium brand in value fashion we've come a long way," he says. What that means is that while he has no wish to dilute H&M's established value credentials, it is about being cheapest on quality, design-led product that he believes is better than that offered by its rivals.
"The customer is savvy – they are demanding more from the product they buy and from the experience," he says. "We will always have the best price on comparable product." The strength of the names with which H&M is collaborating – a Versace range launches in store on November 17, and David Beckham bodywear goes into stores in February – shows the brand's fashion credentials, he says.
Olsson is keen to stress that, contrary to how some may perceive it, H&M is not a young fashion retailer. "We cater for the whole family – ladies, men, kids, young fashion. We're not just targeted at the young customer – young at heart maybe, but a broad age range."
That's reflected in the three-floor Stratford store, which at 35,000 sq ft is H&M's second largest in the UK. It has a distinctive menswear department on the middle level, while the top floor features kidswear and the second appearance in a UK store of H&M's home offer. Olsson says awareness of the home offer – currently in the Oxford Street store and online – is growing; he doesn't rule out putting it in other stores or opening standalone ones.
While not all will be as elaborate as Stratford, ensuring all stores offer a design-led, welcoming environment tailored to its local market remains key to Olsson's strategy as the company continues to open 20 H&M stores a year in the UK.
The business is also experimenting with other formats. Selfridges now hosts the first H&M concession in the world. "It's a small concession and it means we can try a lot of new and interesting ways of doing things," Olsson says. Sister brands Monki and Cheap Monday – not under his remit – are also in Selfridges and there is a good chance the former will open standalone stores here.
Another key difference from others at the value end of the market is the emphasis on responsible product. Olsson says H&M is the biggest buyer of organic cotton in the world, and highlights the success of its Conscious Collection of ethically produced products. The new Conscious Collection was due to launch this week, and a Conscious party collection launches next month.
Despite being one of UK retail's lower-profile leaders, Olsson has overseen the doubling of H&M's UK and Ireland store portfolio in his six years in charge. But there are some things even he cannot change – asked if he could do with the spell of hot weather coming to an end, he answers dryly: "It wouldn't hurt."
H&M Career history
2005 to today Country manager of H&M UK and Republic of Ireland
2001 to 2005 Moved to H&M in the US, where he held various positions
1994 to 2001 Started with H&M in Sweden and held various positions