Top retailers spoke out this week on the case to remain in the EU as the industry's involvement in the political debate widened ahead of the general election.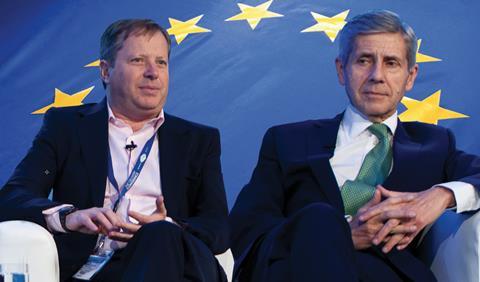 Both Ocado chairman Lord Stuart Rose and Dixons Carphone chairman Sir Charles Dunstone argued the UK's economic strength could be jeopardised by leaving the EU.
The intervention by two of retail's highest profile figures came despite an attack by Labour's leadership on Boots boss Stefano Pessina earlier in the week.
If the Conservative Party wins the election in May, it has pledged to hold a referendum by the end of 2017 on whether the UK should remain a part of the EU.
Tory peer Rose described himself as a "free marketer" and emphasised that EU membership is required to maintain the UK's position in the global economy.
Speaking at MetaPack's Delivery Conference on Tuesday, Rose said: "You've got to look at the big players in the global economy. You've got America, you've got the East, and now in Europe, you've got a quarter of a billion people who are extremely well off, who have extreme buying power and we've got to harness that energy and use it."
Dunstone said the Government should keep the UK in Europe to protect its economic position.
"If you're in business, what's going on in the economy is not too bad, and is probably better than we expected would be the case in 2008 to 2009," said Dunstone. "My point of view has to be [to stay] with Europe. I'm not in any hurry to change that because I look around at what's going on elsewhere – it feels difficult and precarious, so I'm pretty happy with the status quo."
Rose said that while he believes the UK should stay in the EU, there is scope to redefine its position within it.
He said: "If you joined a club 19 years ago and they trebled the number of members since you joined it and some of the rules are a bit old fashioned, then it is legitimate that you should try to renegotiate some of the terms."
Rose came out in support of Pessina, who was attacked by Labour Party leaders after he warned a Labour win in the general election would not be helpful for business or the country.
Labour leaders responded by describing Pessina as a "tax exile in Monaco", and Shadow Chancellor Ed Balls questioned whether "someone who does not pay any tax in Britain should be telling people how to vote".
Rose accused Labour leader Ed Miliband of being a "1970s throwback" whose "business-bashing" policies could lead to "shuttered shop fronts and empty high streets".
Lord Stuart Rose and Sir Charles Dunstone warn against EU exit
1

Currently reading

Lord Stuart Rose and Sir Charles Dunstone warn against EU exit

2