The Liberal Democrats have said the party remains committed to reforming business rates if voted into government next month.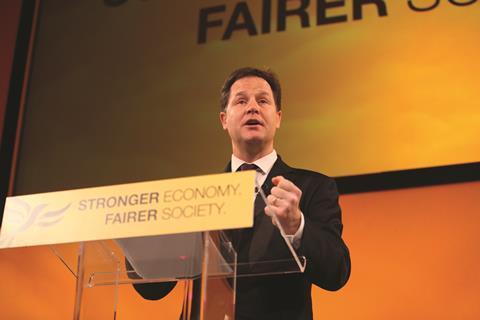 The party said it stands by its proposal to introduce a Land Value Tax (LVT), which would replace controversial business rates.
In its manifesto, the party also said it would complete the ongoing review of business rates while "prioritising reforms that lessen the burden on smaller businesses", as well as ensuring high streets "remain competitive and promote more efficient use of land".
"We will reform and improve the Regulatory Policy Committee to reduce regulatory uncertainty and remove unnecessary business regulation," it said.
"We understand that well-designed regulation, focused on outcomes rather than processes, has a vital role in creating markets and driving investment and will use it, in particular, to promote low-carbon and resource-efficient innovation," said the party manifesto.
Fairness for workers
The Liberal Democrats also said they would balance the needs of business flexibility with the rights of staff to fair treatment.
"There are still too many examples of low pay, exploitation, and bad practice, which contribute to unacceptable levels of inequality in our society. This has to change: the more people earn a decent wage, the fewer will be dependent on benefits or stuck in poverty."
The party said it will:
Encourage employers to provide more flexible working
Implement new rules in regards to companies becoming more transparent and publishing different pay levels for men and women
Look at ways to raise the minimum wage without damaging employment opportunities
Establish an independent review to consult on how to set a fair living wage
Stamp out abuse of zero-hours contracts and create a formal right to request a fixed contract
The Lib Dems also plan to make the tax system fairer:
Workers will not pay income tax on the first £12,500 they earn
Strict rules will be implemented to make sure the richest pay their fair share
Corporations will not be able to "dodge" their tax responsibilities
Targeted green taxes will discourage pollution and reward sustainability