Lord Peter Mandelson said retailers should no longer rely on ethical certifications when it comes to reassuring customers about the quality of their supply chain.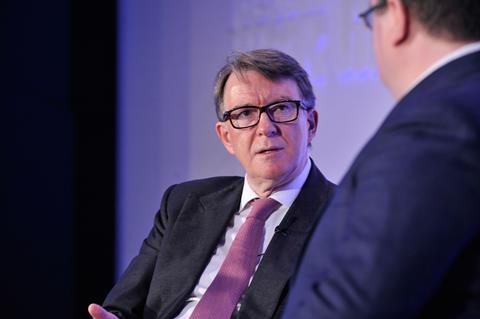 He said retailers need to take more responsibility of their global supply chain to prevent customer backlash over ethical standards.
Comparing retail with politics at Retail Week Live 2015 in London today, the former British Labour Party politician and chairman of the Global Counsel said retailers cannot be isolated from global supply chains anymore, saying retailers need to "change or die".
"In the past, retailers have been able to rely on labelling and certifications, kite marks such as Fairtrade or FSC, to guarantee certain standards. But increasingly these types of certification have come under question," he said, citing Fairtrade as an example of being criticised for favouring established producers.
"All of this means that it has become increasingly difficult for retailers to outsource due diligence and protect themselves from reputational risk," he said.
Mandelson said that simply building requirements for certifications into your procurement policy is beginning to look too limited because consumers are demanding more information from retailers about the products they buy
"Customers expect you to exercise expert and ethical judgement every time you source something."
Mandelson said retailers need confidence that their supply chain methods won't damage their brand or open them up to reputational risk. "For that, you have to know your product, know the issues, be able to and willing to trace back along the supply chain, in order to really know and be familiar with your sourcing," he added.
"Whatever branch of retail you are in, the process of adaptation and modernisation is never ending, it is not something that is fixed," he said. "It is literally change or die."
Retail v politics
Comparing political parties to retailers, he said both have a duty to their consumers. He said political parties are also at risk from failing to be responsible to their voters. "The cost of failure of transparency and accountability are very high in politics as they are in retail," he said.
He said his party – Labour – had fallen out of touch with voters. "We were happy with our products, and we didn't think our customers were becoming increasingly unhappy and turning to others for products."
He also told delegates that Labour would not win the election in May.
"There will almost certainly be a stalemate hung Parliament in two months' time," he said.