Morrisons-owned maternity etailer Kiddicare is localising prices on its international websites to make its offer more targeted and competitive.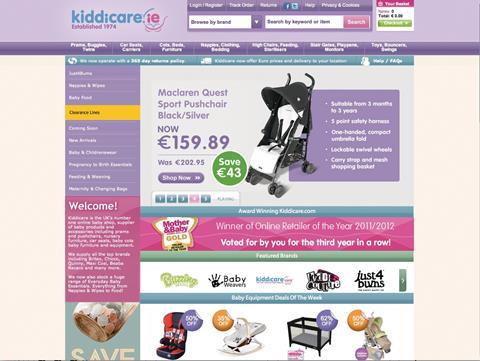 The retailer launched a trial site in Ireland last month with a view to rolling it out across its European operations. The retailer split Ireland from its single European site, which sells to France, Sweden, Finland, Greece and Denmark. Kiddicare intends to revamp those operations into bespoke sites.
The Irish website features specific targeted promotions based on customer sales data and a changed pricing structure.
A Kiddicare spokeswoman said: "Kiddicare started its bespoke international site roll out in Ireland in order to make its offering more competitive for its Irish customers."
Kiddicare launched to international customers last year, with the first online store opening in Sweden, delivering to international customers within four to five working days. Kiddicare was keen to identify markets with consumers that have a high propensity to purchase from UK websites, as well as those with a large percentage of English-speaking consumers.
Products on its international websites are "marginally" more expensive than in the UK to cover fluctuating exchange rates, according to the Kiddicare spokeswoman.
Kiddicare has not set a date for the roll-out but the spokeswoman said its international strategy is "high on the agenda".
The initiative comes after Kiddicare.com upgraded its software to IBM Web Sphere V7 in February. The upgrade means the platform can create bespoke sites with specifically tailored ranges and prices.
Kiddicare is to open the first of 10 shops in former Best Buy stores later this year. The first store will be at the Castle Marina retail park in Nottingham.