John Lewis sales increased 7.1% to £65.07m last week as it benefited from the "continued mixed bag of weather that typifies a British summer".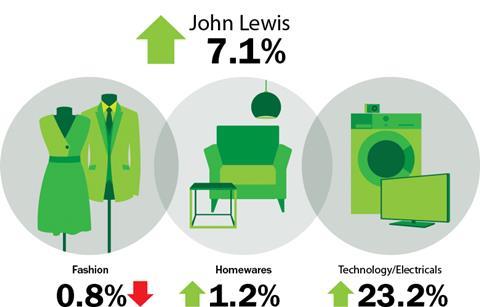 In the electricals and home technology category, sales surged 23.2%, powered by the performance of small electricals and vision, as shoppers snapped up cameras ahead of their holidays.
Home sales at John Lewis edged up 1.2% with the strong performances coming from furniture, textiles and carpets.
Fashion sales slipped 0.8% despite good showings from nursery, women's accessories and beauty. Schoolwear sales were up 17.2%, men's formalwear rose 18.2% and men's shoes advanced 11.3%.
Johnlewis.com "continues to trade well", with sales ahead 21.4%, with electricals driving the growth.
Saturday was the best performing day across the John Lewis stores, with sales up 21.8%.
The London and South shops "continue to compete with last year's Olympics comparatives", said David Barford, director of selling, London and South. However, John Lewis' northern stores were up 10.5%, with Chester, Trafford and Glasgow among the star performers.
Barford said: "The Back to School, College and University trade is really picking up across the branches now and as we see this grow in intensity we are well placed in shops and online to maximise the opportunities ahead.
"The flow of new season stock continues in and with the cooler weather, customers will be keen to shop newness."
At sister retailer Waitrose sales jumped 4.2% to £109.47m, despite tough comparables with the Olympics last year.
The cooler weather meant customers stocked up on warming foods including Indian ready meals, which were up 17%. Shoppers also bought comfort foods including frozen pizzas and chips.
Horticulture sales bloomed by 19.5%, driven by British bouquets and outdoor plants.
Waitrose opened its first farm shop last week on the Leckford Estate in Hampshire. Waitrose retail director Rob Collins said it has received a "positive response from visitors".