John Lewis and Waitrose sales increased in the week to September 21 as the cooler weather shifted autumn stock.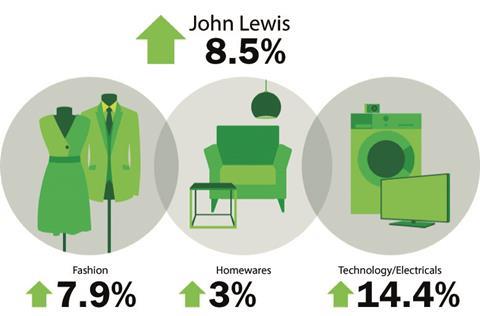 John Lewis sales rose 8.5% to £72.8m last week.
The department store retailer said online sales surged 22.7% driven by fashion, home and electricals. Click-and-collect recorded a "very strong" week, soaring 56% as customers chose it as their most preferred delivery option.
Store sales jumped 3.9%, as two-thirds of branches performed better than last year.
John Lewis said the electricals and home technology category was the star performers across the week, up 14.4% against last year as customers bought large appliances, televisions and cameras. Meanwhile, its tablet sales recorded a rise on tough figures last year.
Fashion sales increased 7.9%, driven by childrenswear, which rocketed 24.7%. And homewares grew 3% as customers responded "excellently" to the new gift food ranges.
In the same week sales excluding petrol at John Lewis' sister grocer Waitrose jumped 6.5% to £112.2m.
Waitrose recorded a sales rise across its warming foods, as its Hereford beef sales rocketed 182% and slow-cooked meats were up 39%.
Waitrose said BBC cookery show The Great British Bake Off had driven sales of homebaking products, which surged 12% last week with sugar up 17% and pastry up 24%.
In addition, the food retailer said customers are buying organic produce as some products have "outstripped" growth from their conventional counterparts.
Waitrose' online sales soared 42.7% in the week, while bookings "leapt" at the Waitrose Cookery School.