John Lewis sales rose 5.3% in the week to March 15, compared with the same week last year, as shoppers responded to the fine weather.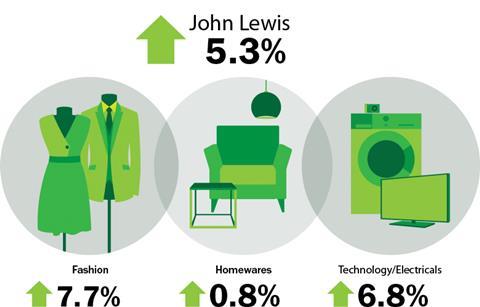 John Lewis said fashion, accessories, nursery and home all performed well. But in categories such as electronics, the sunshine dented footfall.
Retail services director Barry Matheson said: "We had a solid week's trade last week but the shift in the fall of Easter and impact of the weather mean it is difficult to make comparisons with last year. Trade in shops looked relatively strong going into the weekend but the warm weather in the south of the country took the edge off the weekly total, particularly in some of the major regional shopping destinations."
He added online held up throughout the week with positive traffic and conversion numbers, and omnichannel shopping was strong with click-and-collect sales up 45% on last year.
He added the retailer's refurbished shop at High Wycombe performed well last week with sales up 19.3%. It was followed by Newbury, Cambridge, Edinburgh and Norwich which were all above 5%.
At sister retailer Waitrose, sales (excluding petrol) were up 4% in the week to March 15th compared to last year.
Marketing director Rupert Thomas said "online orders, sunshine and sporting spectacles" had driven the strong performance.
Year-on-year sales at Waitrose.com were up 75%, while burger sales rose 36% as shoppers had their first barbecue of the year.
Thomas added: "We also opened two new branches – at Edenbridge in Kent and Teignmouth, Devon. We will now look to build on their impressive performance with our arrival in Keynsham, near Bristol, this week."