John Lewis sales rose 8% to £91.7m in the week to November 2 as price matching and the launch of the new iPad Air drove sales.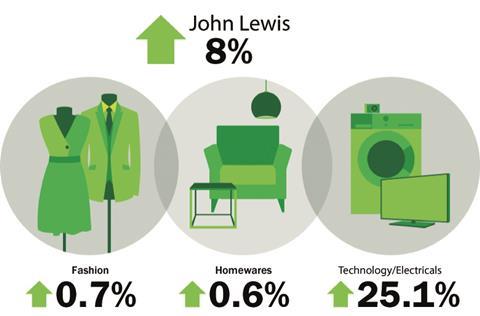 The department store group reported electricals and home technology sales rose 25.1% with the communication technology category up 44%, driven by Apple's tablet launch. Audio, imagery and small electricals also fuelled the rise in sales.
Fashion sales rose 0.7% with women's accessories and beauty recording a 4% rise.
Home sales edged up 0.6% with cooking and dining up 2.2%, the strongest performing category.
The group notched up 24.4% growth in online sales as its multichannel business continues to perform strongly.
John Lewis' Tamworth, Poole and Swindon stores performed best while Peterborough, Norwich and Knight & Lee were the worst performing stores year on year.
John Lewis director of selling David Barford said: "The week saw the continued mixed bag of autumn weather with wet and windy conditions reflected in customers' shopping habits.
"We finished the week with sales 8% better than last year, driven by the price match extravaganza and new technology launch.
"The autumn trade will pick up this week – with colder weather here customers will build into the Christmas shopping mood, and as the Christmas campaigns kick off we will see uplift in footfall, which we are well placed to capitalise on."
Sales at Waitrose rose 8.5% to £112.5m helped by strong online orders and shoppers celebrating Hnalloween and having bonfire parties.
Retail director Rob Collins said: "Our online grocery service Waitrose.com enjoyed a stand-out week as customers shopped from the comfort of their homes. It chalked up its second busiest week of the year, ahead of Easter and second only to Christmas."
The grocer's Halloween range was up 96% on last year. Pre-packed cakes, which featured a range of spooky designs, recorded a 47% increase in sales while confectionery was up 57%.