John Lewis enjoyed its strongest week of the second half, which began on July 28, last week as sales rose 8.4% on last year.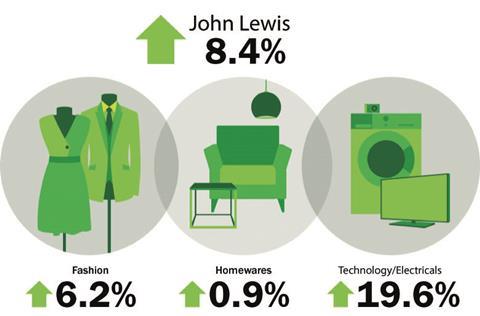 Sales rose more than 5% on the previous week, twice the rate of acceleration the department store recorded last year.
John Lewis buying director Ed Connolly said a "gathering sense of momentum now builds each week as we prepare to enter our crucial final trading quarter".
Electricals and home technology sales rose 19.6% and the category is expected to continue to perform strongly with several technology launches this week.
Fashion sales rose 6.2% in the week. "Fashion did well to register a positive set of figures given that their autumn/winter ranges have yet to enjoy a serious taste of morning frost," said Connolly.
Lighting and gift assortments drove a 0.9% increase in the home department.
Connolly added: "With strong like-for-like shop growth complemented by online sales up 19.3%, all in all we are very well set operationally to take advantage of the peak trade now it is beginning to filter through the doors and onto the website."
High Wycombe, which notched up 51.5% growth following a refit, Tamworth and Swindon were the strongest performing stores while Knight & Lee, Peterborough and Stratford City were the laggards.
Sales at Waitrose rose 9.3% as cooler weather and BBC Two's The Great British Bake Off drove sales of winter warmers and baking goods respectively.
Waitrose supply chain director David Jones said: "The Great British Bake Off continues to have an impact on our sales, with last week's semi-final seeing the remaining four contestants make a classic French dessert, the Opera cake.
"This prompted sales of our frozen Seriously Opera cake to rise by 37% on last year – perhaps shoppers planned to impress friends and family with the multi-layered dessert, without the effort of having to cook one from scratch."
He added: "Halloween celebrations seem to grow in popularity every year, and this year is no exception. With the spookiest day of the year still a week away, sales of decorations and accessories have already risen by 84% on last year and Halloween confectionery by 14.5%, as shoppers prepare their homes for parties."