John Lewis has reported a "modest" 2.8% uplift in year-on-year sales last week as a strong performance in electricals was checked by falling fashion sales.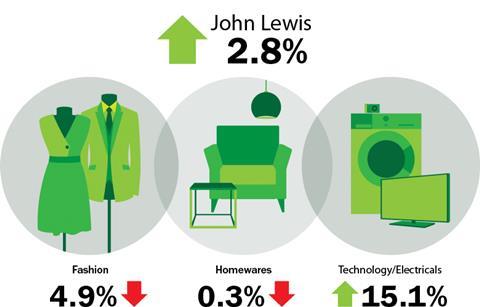 Sales rose to £71.9m but John Lewis buying director Ed Connolly said a "second week of unseasonably warm weather affected our level of sales last week, keeping people in their gardens a little longer than we might have liked".
Electricals and home technology sales rose 15.1% driven by strong lighting sales as the dark nights begin to draw in.
However, fashion sales fell 4.9%. "The impact of weather showed through most clearly in our autumn/winter assortments," Connolly said.
Homewares sales fell 0.3% on the previous year. Online sales rose 12.1%.
The first week of trading on Christmas products saw double-digit growth on last year.
Aberdeen, Croydon and Chester were the strongest performing stores while Peterborough, Sheffield and Newcastle recorded the biggest year-on-year falls.
Waitrose sales rose 7.9% to £116m. Online sales rose 22.9%.
Waitrose commercial director Mark Williamson said: "The mixed early autumn weather created quite polarised dining patterns – top sellers ranged from ice creams through to custard."
Williamson said customers have reacted "positively" to its myWaitrose TV advertising campaign.
He added: "Across our ranges we saw a significant boost to products on a 10% myWaitrose promotion as more customers start to regularly look out for these deals following our ad campaign. This was particularly the case for products highlighted in the advertising campaign itself."