John Lewis sales jumped 7.6% last week to £65.75m despite it being up against tough Jubilee and Olympic comparables.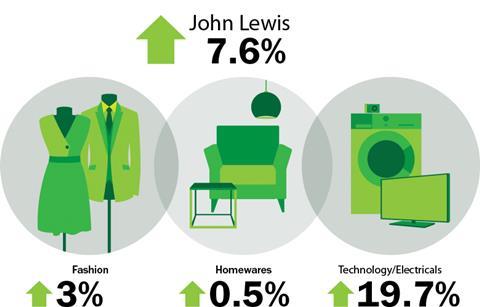 The "very satisfactory performance" continued the "solid set of results we have seen throughout August", said John Lewis director retail services Barry Matheson.
The retailer said last week it "easily overcame the hurdle of Jubilee and Olympics merchandise, which was still selling strongly this time last year".
Fashion sales were up 3% driven by back to school and women's accessories and beauty.
John Lewis said it was a "tougher" week in home, however, sales edged up 0.5%. In furnishing accessories the 'Back to University' promotion "has been selling through well".
The electricals and home technology directorate "once again excelled, buoyed by some impressive growth online", said Matheson, with sales surging 19.7%.
All the major electrical assortments "were well into double digits". Matheson added: "Now that we are clear of any distortion caused by last year's digital switchover, we can see just how strong our underlying vision trade is at 35% up on last year."
John Lewis was "very pleased" with the level of traffic growth and conversion last week and Johnlewis.com.
Matheson added: "We enter the final week of August in good form and the bank holiday weekend gives us numerous opportunities to capture trade from the additional footfall that will be in our shops and extend our recent fine form."
At John Lewis Partnership-owned grocer Waitrose, sales excluding petrol increased 7% to £110.49m.
Waitrose said it was particularly pleased because it was up against tough comparables; the same week last year featured the hottest day of 2012 and the Olympics' closing ceremony.
British ales sold well after last week's Great British Beer Festival, while the cooler weather boosted demand in warming foods, with sales of gravies are up 27% and stocks up 20%.
Waitrose.com orders rocketed 37.9% "as customers seek to shop with Waitrose from the convenience of home", said Mark Williamson, commercial director at Waitrose.