John Lewis Partnership has unveiled a new round of investment in its businesses to ensure it remains at the forefront of "profound change in the retail market" driven by technological advances.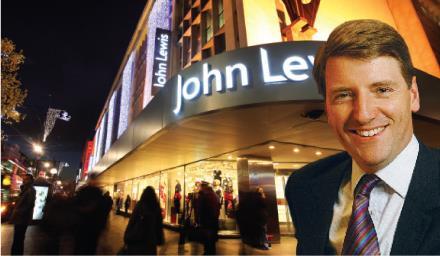 Chairman Charlie Mayfield said the partnership would focus on innovation to "prepare for the future" as the retailer revealed a profit drop last year after investing, including in promotions amid tough conditions.
He said JLP will invest £450m this year in "growth and multichannel leadership" across both John Lewis and Waitrose.
Mayfield said: "We have upped the pace of innovation and are preparing for the future. Developing products you cannot buy anywhere else has never been more important. We're launching more new products than ever before and are making the largest investment in supply chain and systems."
He said the downturn and technology are both driving transformation in retail.
"We have a very different economic backdrop, and that's not just a flash in the pan," observed Mayfield. "We're on a different trajectory in terms of levels of consumption and technology is fundamentally changing the way we shop.
"We are absolutely determined to be at the forefront of changes in the retail sector."
Mayfield described last year as "probably the toughest for the consumer since the start of the downturn" but remained optimistic for this year, as concerns about the Eurozone crisis and banks ease, and last year's VAT rise annualises.
Andy Street, managing director of the bellwether department store business, said that while sales rose, a profits fall was "clearly down to the competitive environment".
John Lewis invested in store openings, new channels, and promotions as it price matched rivals in ferociously competitive trading conditions.
The department store division spent £24m more than the previous year in delivering its Never Knowingly Undersold price promise, which gives customers "absolute confidence in our pricing," according to Street.
Street said in 2012 the retailer will be "investing in the future of bricks and clicks" and will open more shops and relaunch its website in July to create more capacity and "give more options with how customers can shop with us".
JLP grocery business Waitrose also blamed a profit fall on investment, after ploughing £17m into convenience and ecommerce expansion and £10m into the supply chain.
Waitrose also ramped up promotions as rival grocers upped the ante on price.
Waitrose managing director Mark Price said 28% of stock was sold on promotion last year, compared with 17% in 2010. He added that online sales are expected to grow 30% this year.
John Lewis Partnership results
First 5 weeks of new financial year
John Lewis like-for-likes up 2.4%
Waitrose like-for-likes up 2.2%
John Lewis Year to January 28
Operating profit down 20.4% to £40.5m
Sales up 1% to £2.8bn
Waitrose Year to January 28
Operating profit down 5.2% to £260.6m
Sales up 7.9% to £5.1bn
JLP bonus: 14% of annual pay v 18% last year