John Lewis unwrapped and hoisted the sign for its Westfield Stratford City store this week.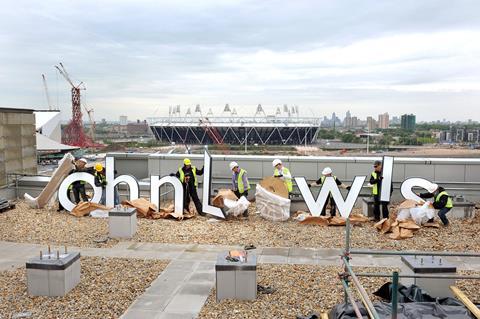 The £35m department store will showcase new retail concepts for fashion, homewares and electronics.
The 260,000 sq ft shop will open in the scheme on September 13, ahead of the London 2012 Olympics.
John Lewis managing director Andy Street said: "Westfield Stratford City is currently one of the world's largest regeneration projects and will be a core component of the Olympic legacy. Together with Westfield, we will create a world class shopping centre, and our department store next to the Olympic Park will offer the latest, greatest assortment in the UK.
"The spotlight of the world will be on Stratford in the lead up to and during the 2012 Games. John Lewis is here for the long term and we're totally committed to the role we will play in the regeneration and transformation of east London.
"The next three months will see us bring the shop to life, both outside and inside, and installing the logo is a key milestone."