JML to air first shopping programme on a mainstream channel that enables viewers to buy products.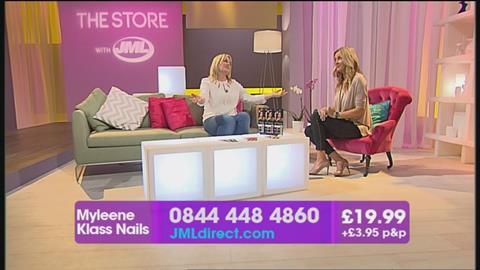 Home shopping group JML is launching its own television show on ITV1 tonight, combining shopping and chat as it seeks to innovate its multichannel offer further.
Branded 'The Store With JML' and dubbed a 'chatmercial', the format will enable viewers to buy products on a mainstream TV channel for the first time.
JML managing director Ken Daly said: "The show will have a significant impact on turnover in the direct shopping division of the business.
"What we're doing is very different to anything else that is being done in the UK. The concept is completely new."
The pre-recorded show will air on Fridays, Saturdays and Sundays between 12.40am and 2.45am for the next 12 months, premiering tonight. On average around 500,000 people currently tune in to ITV1 at that time.
JML already has three TV shopping channels on Sky 641, 653 and 667.
Daly described the ITV show as a "game changer". He said: "It will allow us to reach a much bigger audience. Although Sky viewers are still increasing, growth has slowed, so we think we have maximised the model we have on the three channels."
The ITV programme will feature a particular JML product, such as the Ped Egg footcare file or Fast Fit ironing board cover, for viewers to purchase every 15 minutes. Products are interspersed with discussion by a panel including Ready Steady Cook celebrity chef Tony Tobin and This Morning's fashion expert Wendy Elsmore. The show is filmed in front of a studio audience, encouraging interaction and participation.
Daly said JML and ITV had worked closely to create the programme. Revenue from the shows will be split between both companies. "Both parties are equally incentivised to make it a huge success," said Daly.
ITV director of commerce and ventures William van Rest described the programme as a "new style of TV shopping".
The TV shopping market is worth £756m a year according to Verdict. Big retailers have increasingly been attracted to the medium. Argos launched a TV shopping channel on Sky last year.
JML does not operate any stand-alone shops but offers promotions in 3,500 high street stores, including Asda, Boots, Tesco and Wilkinson, via in-store screens that show product demonstrations.