JJB's second CVA attempt has called the process into question. Nicola Harrison asks if landlords will throw JJB another lifeline and if the CVA process is fatally flawed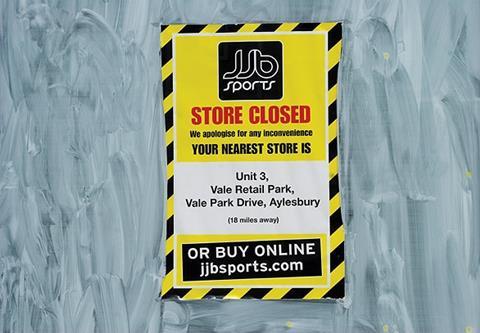 Last Friday landlords of JJB stores woke up to an unpleasant sense of déjà vu when they were told for a second time in as many years that they would have to vote on a CVA to secure the "future viability" of the troubled sports retailer.
If the wording of the statement sounded familiar, that is because it was. The retailer used strikingly similar language the first time round. On both occasions, JJB said a CVA was critical to ensuring the long-term survival of the business and in the best interest of shareholders.
The first time round, JJB pulled off its CVA after being praised for the open way in which it dealt with landlords. But with JJB finding itself in the position of having to attempt another, it means the first didn't achieve what it needed to - the long-term survival of the chain. Are CVAs really the life-saving instrument that they are touted as?
Looking at other examples in retail the answer looks like no. DIY retailer Focus (see box overleaf) completed a CVA in 2009, a few months after JJB's. While the CVA gave Focus - which declined to comment for this article - a short-term boost by allowing it to shed loss-making stores, it is not out of the woods yet.
And in November 2009, outdoor specialist Blacks - also not available for comment - pulled off a controversial CVA that disappointed some landlords, who had to take stores back only to see a Blacks shop pop up nearby a few months later. Today Blacks' sales may be improving but its turnaround remains a work in progress.
But it is the fact that JJB, albeit under new management, wants to undertake another CVA that has raised doubts over the mechanism's effectiveness. One restructuring expert who has been involved in retail CVAs says: "If you're doing a second one you have to question whether the first one worked."
JJB was the first quoted retailer to undertake a CVA as the recession bit. The method was presented as a better alternative to an administration - which can leave creditors with nothing - and one that can put a business back on a firm footing.
And, despite JJB's latest attempt, many believe the CVA remains an effective and legitimate tool for troubled companies.
The best alternative
One retailer with first-hand experience of the CVA process maintains: "The CVA process is excellent for a business in very difficult circumstances. It's a very democratic approach, inviting creditors to vote on whether to support a business going forward.
"The alternative is a pre-pack administration, which is very complex: you have a new company, and no covenant - it's a laborious exercise."
However, that need not always be the case. Shoe specialist Stylo was the first to attempt a CVA. The plan was rejected and it was put into administration in February 2009.
Stylo chairman and chief executive Michael Ziff bought back 179 stores to form Barratts Priceless, which posted pre-tax profits of £6.1m in the 18 months since the administration of Stylo on turnover of £218.5m.
Does that show that pre-packs are a better vehicle to rescue businesses than CVAs? The retailer with CVA experience does not think so: "All that tells you is that the creditors should have voted through the CVA," he says.
One lawyer specialising in CVAs says they are seen as preferable because they do not carry the stigma associated with administration. He says: "The CVA is seen as consensual, an arrangement between the company and creditors." He acknowledges, however, that for a CVA to work, "there has to be a salvageable core business".
The restructuring specialist says CVAs are a good vehicle if deployed properly. "They can't be used in isolation," he says. "You have to conduct a re-engineering of the business at the same time, and take a lot of costs out."
KPMG UK head of restructuring Richard Fleming led JJB's first CVA and is doing the same this year. He would not comment on JJB specifically but insists: "CVAs absolutely work but are not a miracle cure. There are lots of things a business needs to work on. A CVA is just one of the tools, it's never going to be the compete answer.
"In administrations creditors lose money. Pre-packs are so much worse for the landlord. They hate administrations, but they hate CVAs a lot less."
However, Land Securities commercial director Ronan Faherty is less enthusiastic. He says: "CVAs are a quick way of cutting costs but if you don't have a real retail strategy behind it the business will fold. I don't think CVAs are the answer. Have they all worked? I'm not sure they have. It's a short-term solution to a long-term problem."
Turning tide
Cormac McNabb, associate at property agent Savills, has no doubt that landlords are more sceptical of CVAs than they were two years ago. "Retailers [that have conducted CVAs] seem to continue to struggle. It delays the inevitable," he says.
While CVAs allow creditors to vote on whether to support the affected business, some deem the process as unfair because only some creditors are risking anything. Most retail CVAs only affect landlords, so creditors such as suppliers have nothing to lose by backing them.
British Property Federation chief executive Liz Peace believes the system is "somewhat skewed in favour of the business claiming insolvency".
She wants to see clawback provisions."Landlords who take a hit can then derive some benefit if the business subsequently improves its performance and turns in a reasonable profit," she says.
KPMG is understood to be looking at some kind of clawback provision for the latest JJB CVA. But the question remains why, having already gone through a CVA once - which was seen as a success at the time - does the retailer find it necessary to attempt a second?
Should the first JJB CVA have gone further and involved the shuttering of more stores? JJB declined to comment, but a source close to the retailer agrees that perhaps more shops should
have been shut originally. But he adds that JJB did not expect the retail environment to deteriorate to the extent that it did in the second half of last year.
The source rebuffed claims that the first CVA has not worked. "The first CVA did work - they got it through and here they are," he says. "You can't say the first CVA failed. The CVA delivered, but what didn't deliver was the retail environment."
Not far enough
The lawyer agrees that perhaps the first JJB CVA "didn't cut deeply enough" but wonders whether one reason for that may have been fear of not getting it passed by creditors. "You need to shift stores but you also need to get it through," he says. "Because it was the first one [of the retail CVAs] they might have been more cautious."
The source close to JJB thinks a good case is being made for the second restructuring and says: "JJB is setting out a clear new business plan on the assumption that the CVA is successful.
"There is a new operations board so that if the CVA and fundraising are successful, JJB has the right people and processes in place to implement the changes effectively.
"This CVA is being put forward for the good of shareholders. It's not very comfortable but that is the reality. It has to do this to secure the future of the group. It's in the interest of securing vast amounts of jobs."
The terms of the CVA include the closure of 45 underperforming stores in the next 12 months, with agreement on a review period for the remainder and an option to close up to 50 more in the next 24 months. JJB also wants to pay rents monthly instead of quarterly.
But JJB may have trouble convincing some of its landlords. One of the largest says he will not be backing it. "It can't keep going on like this. There are too many unknowns about the business," he says.
Retailers are critical too, including those stronger groups that believe CVAs create an uneven playing field. Ian Cheshire, group chief executive of B&Q owner Kingfisher, has in the past slammed them as the "strong effectively cross-subsidising the weak".
This week one unnamed retailer was reportedly so incensed over JJB's second CVA attempt that he was considering calling a meeting with "all the major retailers to fight back against JJB's plan". The retailer says that if landlords accept the plan, others will reconsider payment of their rents.
The CVA debate will rage on. While the short-term gains are clear to see, retailers that use them need to have a strong business plan behind them. Otherwise they may find that the process just puts off the inevitable.
In 2009 JJB said the CVA was…
"necessary to secure JJB's long term future. The CVA proposal is in the best interests of the group and its stakeholders as a whole"
In 2011 JJB said the…
"Group's future viability is dependent upon" a CVA and that it is "in the best interests of the company and its shareholders"
JJB Sports
Then and now
April 2009
99% of creditors approved the CVA, saving the retailer from administration.
The sports retailer closed 140 stores and temporarily varied the leases of its remaining 250 open stores to permit monthly rent payments.
The agreement saved more than 10,000 jobs
February 2011
The retailer has asked shareholders for £31.5m but warned that this will only take it through to the end of April. Like-for-like sales plunged 11.5% in the five weeks to January 23. However, the retailer is in talks with rival JD Sports Fashion about a possible takeover.
Focus DIY
Then and now
August 2009
The DIY retailer's CVA was approved by 99% of creditors, securing the renewal of its two-year revolving credit facility and saving the business from administration. It resulted in the closure of its 38 so-called dark stores - non-trading shops - that drained the retailer of £12m a year. The CVA secured 4,700 jobs.
February 2011
The retailer reported a 17% rise in EBITDA to £17.7m in the year to February 21, 2010. However, Focus is known to be finding it tough in the declining home improvement market, with its owner Cerberus considering its options for the business, which could result in a sale.
Blacks Leisure
Then and Now
August 2009
The outdoor retailer's CVA was approved by 98% of its landlords.The terms involved the retailer exiting 89 of its stores. Blacks remained liable for rates until leases ran out or the units were let. The agreement preserved more than 4,000 jobs.
February 2011
In December like-for-likes soared 10.2% as it benefited from the cold snap. However, recent discussions to sell the business fell through last month and chief executive Neil Gillis last week revealed he was stepping down.