The photographic retailer may have survived crises, but it must develop further.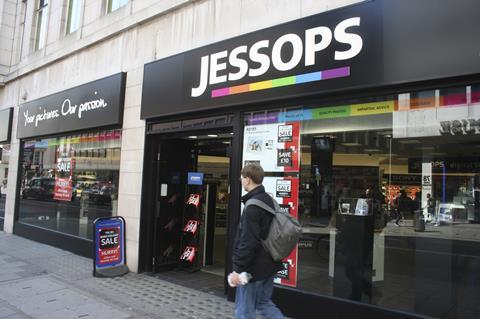 Camera specialist Jessops has not always been a picture of health after narrowly avoiding administration three years ago, but after posting a much-improved pre-tax loss of £5.2m for the year to January 2012 against a £69.7m loss in 2007 it seems to be turning its fortunes around.
The retailer – which has suffered falling camera sales because of heightened competition and the increasing popularity of smartphones, as well as the decline of film processing – has attempted to carve its niche in a declining market by exploiting its high street presence and specialist knowledge.
In the figures published last month, Jessops revealed EBITDA growth of 29.8% to £5.7m. Total sales rose 3% to £236.8m and like-for-likes increased 1.3%, despite the shrinking market.
It is a very different picture from five years ago, when Jessops issued several profit warnings across 2006 and 2007. Later in 2007 the retailer implemented a new strategy, cutting 81 under- performing stores and offering customers digital printing services online and in store.
Jessops' product offer was also revamped to ensure it was selling cameras that featured the latest digital technology.
However, the strategy was not enough to save it from delisting from the Stock Exchange in 2009 after its banks conducted a life-saving debt for equity swap, leaving HSBC in the driving seat. HSBC wrote off £34m of debt in the deal.
The retailer, then with 213 stores, transferred to a newly formed special purpose vehicle, Snap Equity, avoiding administration.
Under new chief executive Trevor Moore and alongside then chairman David Adams and a strengthened management team, the struggling retailer implemented its turnaround strategy.
A store refurbishment programme across its 193-strong estate has helped lift sales. The new 'black' format stores discarded Jessops' traditional blue signage, created more space in-store and developed branded areas for each of its stocked manufacturers, resulting in a clearer store layout. Taking the cameras out of display cabinets and allowing customers to touch and feel them also gave the stores more of an interactive experience.
Staff training has also been crucial to the retailer's customer experience and sales uplift. Moore and his team have improved training as Jessops aims to offer knowledge and advice that customers are unable to get anywhere else, including at online rivals such as Amazon, which have grabbed market share.
Jessops' own focus on online has improved customer uptake. Online sales now account for 32% of the total, after sales through the channel increased 79% last year. New online products, which allow customers to create personalised mugs, T-shirts and canvas pictures, have also helped drive sales.
Jessops intends to launch more online products in the future. Last month, it developed its Photo Legacy service that will enable customers to scan, store and reprint old negatives and images. It also plans to launch a cloud storage service later this year.
Despite the turnaround strategy, Jessops' future remains a little out of focus. Adams left the retailer in February and there were reports in April that HSBC was in talks with advisers about a possible sale this summer. A month later Jessops was thought to be on the verge of receiving a £10m investment from key camera supplier Canon. It remains unclear if any investment was made.
According to Retail Week Knowledge Bank, prices are expected to continue to come under pressure as online rivals make gains in the market.
As its key market declines, Jessops must keep abreast of new technology and focus on product depth and service as it seeks to bounce back into the black.
Snapshot
Sales £236.8m
Pre-tax losses £5.2m
EBITDA £5.7m
Number of employees 1,626
Chief executive Trevor Moore
Chairman Martyn Everett